Texas turnaround: unemployment rate fell by nearly half (Infographic)
State residents prepare as federal jobless assistance will end June 26.
The unemployment rate in Texas was 6.7% in April, which is down from the record high of 12.9% in April 2020.
The decrease comes as Gov. Greg Abbott said in May that Texas will opt out of federal jobless assistance to encourage people to go back to work. Jobless Texans will lose access to all additional federal pandemic unemployment aid — including a $300-per-week supplemental benefit — on June 26.
Hundreds of thousands of Texans were receiving federal pandemic assistance as of the week ending May 1. For many, one month isn't enough time to apply for and find a job. But economists are optimistic that increased coronavirus vaccinations will help stabilize and improve the state's economic recovery.
Throughout the pandemic, the state's outdated and understaffed unemployment insurance office left countless Texans struggling to receive unemployment benefits as they navigated the Texas Workforce Commission's confusing processes.
Business shutdowns and limits battered Texas companies, which can now largely operate at full capacity. But businesses must choose whether customers are required to wear masks.
During the legislative session, Texas lawmakers approved a $248 billion two-year state budget for 2022-23 that is headed to the governor's desk. The plan takes into account federal funding for coronavirus relief. Earlier in May, Texas Comptroller Glenn Hegar increased the projection for state funds available for the 2022-23 budget by $3 billion — to a total of $116 billion — eliminating the budget deficit from the pandemic.
Unemployment rate decreased in April
Texas' unemployment rate in April was 6.7%, a decrease from the 6.9% March jobless rate, according to a Bureau of Labor Statistics report released May 21. The state gained around 1 million jobs in the last year after shedding over 1.4 million jobs due to the pandemic, according to TWC. In April 2021, 13,000 jobs were added in Texas.
Although jobs have been added, many are still facing obstacles reentering the workforce. On June 26, hundreds of thousands of Texans will lose the assistance they received through two federal unemployment aid programs after Abbott opted the state out of federal aid.
Unemployment by county
The impact of the coronavirus recession varies widely across Texas. The latest data showing how the unemployment rate varies in Texas counties is from April.
Joblessness is the worst in South Texas, where many people work in oil fields, but the region is slowly recovering. Several counties, including Starr, Cameron, Hidalgo and Willacy, recorded lower unemployment rates in April than in March. Unemployment in Austin's Travis County is at 4.5%, the lowest rate among Texas' most populous urban counties. And some rural counties throughout the state have unemployment rates below 4%.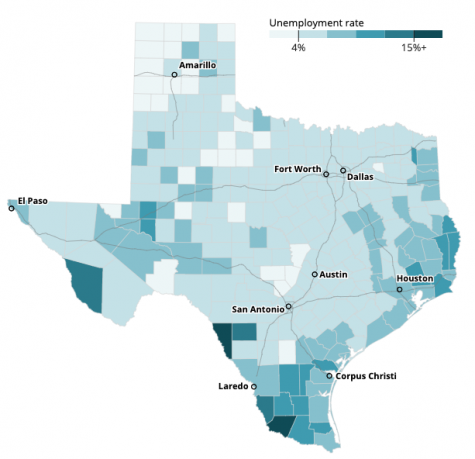 Sales tax revenue rises in May
In May, Texas collected $3.4 billion in sales tax revenue, up 30.1% from what the state collected in May 2020. The revenue came mostly from purchases made in April. The total revenue for March, April and May was up 17.3% compared with the same period in 2020.
Spending at restaurants exceeded pre-pandemic levels, and sales at retailers like clothing stores and electronics and appliance stores rebounded from last spring, according to the comptroller. Oil and gas receipts were still down.
(Visited 186 times, 1 visits today)
Leave a Comment