Rescuers to right China ship to search for missing
CHRISTOPHER BODEEN
Associated Press

JIANLI, China Disaster teams that have recovered 77 bodies from a capsized cruise ship in the Yangtze River, launched preparations late Thursday to pull it upright to quicken the search for more than 360 other victims who could be trapped inside.
The operation to right the Eastern Star shifted the focus from finding survivors more than 72 hours after it overturned to salvaging the vessel and retrieving bodies.
Transport Ministry spokesman Xu Chengguang said divers would put steel bars underneath the ship, which would then be lifted by two 500-ton cranes. A huge net was placed near the cranes and another one a few yards downstream to catch any bodies.
Two smaller cranes were also on site and boats were stopped from entering the area.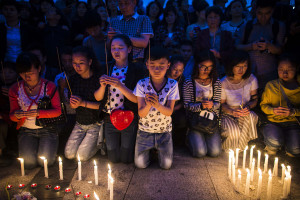 Authorities say 14 people survived Monday night's sudden capsizing in a severe storm, some by jumping from the ship during the early moments and swimming or drifting ashore. Three of them were pulled by divers from air pockets inside the overturned hull Tuesday after rescuers heard yells for help coming from inside.
Xu told a news conference that no further signs of life had been found and the chance of finding anyone else alive was "very slim." It was therefore time to right the ship to speed up rescue and recovery efforts, he said.
Earlier Thursday, rescuers cut three holes into the overturned hull in unsuccessful attempts to find more survivors.
More than 200 divers have worked underwater in three shifts to search the ship's cabins one by one, state broadcaster CCTV said. Rescuers pulled out dozens of bodies Thursday which were taken to Jianli's Rongcheng Crematorium, in Hubei province, where relatives tried to identify them.
Many of the more than 450 people on board the multi-decked, 251-foot-long Eastern Star were reported to be retirees taking in the scenic vistas of the Yangtze on a cruise from Nanjing to the southwestern city of Chongqing.
"I can't imagine how terrifying it must have been for them," said farmer Wang Xun, who was among the crowd observing developments outside the crematorium. "Old people should be with their families and go peacefully, not like this."
The capsize of the Eastern Star will likely become the country's deadliest boat disaster in seven decades, and Chinese authorities have launched a high-profile response that has included sending Premier Li Keqiang to the accident site, while tightly controlling media coverage.
The Communist Party's Politburo Standing Committee, the country's highest power, convened a meeting and issued a directive for officials to step up efforts to control public opinion about the disaster response, while ordering them to both "understand the sorrow of the families" and "concretely preserve social stability."
The survivors included the ship's captain and chief engineer, both of whom have been taken into police custody.
Some relatives have questioned whether the captain should have brought the ship ashore at the first sign of a storm, and whether everything possible was done to ensure the safety of the passengers after the accident. They have demanded help from officials in Nanjing and Shanghai to travel to the site in unruly scenes that have drawn a heavy police response.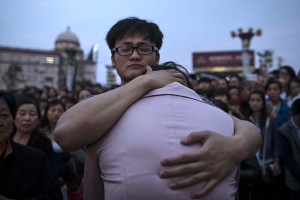 Records from a maritime agency show the capsized ship was cited for safety violations two years ago. Authorities in Nanjing held the ship after it violated standards during a safety inspection campaign in 2013, according to a report on the city's Maritime Safety website, which didn't specify the violations.
The shallow-draft boat, which was not designed to withstand winds as heavy as an ocean-going vessel can, overturned in what Chinese weather authorities have called a cyclone with winds up to 130 kilometers (80 miles) per hour. The sudden capsizing meant many passengers were unable to grab life jackets, Zhong Shoudao, president of the Chongqing Boat Design Institute, said Wednesday.
Access to the accident site was blocked by police and paramilitary troops stationed along the Yangtze embankment.
China's deadliest maritime disaster in recent decades was when the Dashun ferry caught fire and capsized off Shandong province in November 1999, killing about 280.
The Eastern Star disaster could become China's deadliest boat accident since the sinking of the SS Kiangya off Shanghai in 1948, which is believed to have killed anywhere from 2,750 to nearly 4,000 people.
(Visited 28 times, 1 visits today)