Unprecedented wildfire on Canada's Atlantic coast still burning after four days
A fire that has been burning on Nova Scotia's coast for four days has destroyed nearly 200 structures
May 31, 2023
HALIFAX, Nova Scotia — An unprecedented string of wildfires in Canada's Atlantic-coast province of Nova Scotia continued to burn out of control for a fourth day on Wednesday, preventing thousands of evacuees from trying to see if their homes have been destroyed.
Fire officials were hoping for a break in the dry, windy weather, but that is not forecast to happen until Friday night at the earliest.
Halifax deputy fire chief David Meldrum made it clear that none of the 16,000 evacuees from the suburbs around Halifax will be able to return home for now. Another 2,000 people who fled a much larger uncontained fire in southwestern Nova Scotia also are being kept away from their properties.
Fire officials say an estimated 200 structures, including 151 homes, have been destroyed since the fire started in the Upper Tantallon area Sunday afternoon. No deaths or injuries have been reported, but "it's the site of a tragedy," Meldrum said.
"There's widespread destruction, and there's a level of randomness that comes with wildfires when they hit … where people live," the deputy fire chief said. "There are properties that are unharmed close to properties that are destroyed. It's terrible to see. These are people's homes."
Meldrum said the 3.2-square mile fire northwest of the port city's downtown grew slightly overnight and could flare up again in the warmer-than-usual weather. Wind gusts from the southwest were expected to reach 15 miles per hour, and the temperature was forecast to rise to about 77 F, with the humidity remaining at around 20%.
Meldrum said the fire could quickly spread, which is why the Halifax area's 39-square-mile evacuation zone will remain in place.
Halifax Mayor Mike Savage said charges will be brought against anyone burning outdoors, and that anyone responsible for starting a wildfire could be required to pay expenses relating to controlling or extinguishing the blaze, along with any related damages.
"We are taking a no tolerance approach," Savage said.
The much larger fire that forced 2,000 people to flee outside Barrington has grown to almost 77 square miles since it started last weekend, making it one of largest ever recorded in Nova Scotia.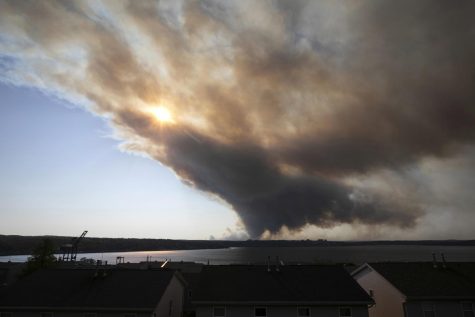 Nova Scotia Premier Tim Houston declared a ban on all travel and activity in wooded areas, and he implored people to avoid any activity that could start more fires.
"Don't be burning right now, " Houston said Tuesday. "No burning in Nova Scotia. Conservation officers reported six illegal burns last night. This is absolutely ridiculous with what's happening in this province — three out-of-control fires, eight fires yesterday, 12 on Sunday. Do Not Burn! We have to do what we can to make sure we don't have new fires popping up."
Scott Tingley, the forest protection manager in the province's wildfire management group, said it is safe to say that all of these fires were "very likely human-caused."
"Much of it probably is preventable," Tingley said. "Accidents do happen and so that's why we certainly appreciate the premier's message."
#BarringtonLakeFire spread from Sunday to present according to Natural Resources Canada interactive map.

Currently estimated at over 10k hectares. Largest wild fire in Nova Scotia history clocked in at 13k hectares in Guysborugh Country, 1976. pic.twitter.com/qFka9u7lji

— houston needs to send in the feds (@ThatReesh) May 30, 2023
(Visited 3 times, 1 visits today)