SCHUYLER DIXON
Associated Press
IRVING Greg Hardy missed practice Wednesday because he was ill, so the latest chance for the Dallas defensive end to meet with reporters ended the same way as the first two.
There's still no word from the player facing a 10-game suspension to start the season for his role in a domestic violence case.
It's the second time in less than a week Hardy has missed an offseason workout. He was in Washington last week for the hearing on his appeal of his suspension.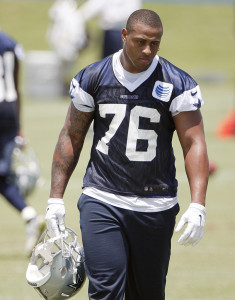 Otherwise, the former Carolina player has been a steady presence at the Cowboys' Valley Ranch headquarters since signing as a free agent. And he's left the impression with teammates that he's ready to work.
"I don't think he has to feel like he has to prove something to us," tight end Jason Witten said. "I think he just does the thing that he does, be a good teammate, show up, work hard, do it together. And I think he's done that overwhelmingly with the team perspective."
Witten speaks with a stronger voice on Hardy than most because he grew up in an abusive home. When the NFL launched a campaign against domestic violence last year after heavy criticism over its handling of the Ray Rice case, Witten wanted a part in it. He has a charitable foundation dedicated to victims of domestic abuse.
And Witten certainly understands the delicate position he's in. Witten is sharing a locker room with someone who was convicted by a judge on charges he choked and grabbed his ex-girlfriend and threw her onto a futon that had at least four semi-automatic rifles on it. The case was dismissed when she couldn't be found to testify in Hardy's appeal.
The NFL suspended Hardy after gaining access to photos used at the first trial, saying there was "credible evidence" that he committed the offenses.
"My support to stopping domestic violence is unwavering," Witten said. "That doesn't stop. At the same time, I wasn't around Greg last year when that happened. I have to go off what I see and experience. He's a teammate. That's a bond."
Witten said he has to trust management's decision to take on Hardy, and thinks it would be unfair to address the incident directly with his new teammate.
"It's not my position to say, 'Well, wait a minute, you owe me an explanation.' Because he doesn't," Witten said. "Your job is to be a teammate and kind of encourage him and kind of welcome him, and to also kind of set the standard of how we do things."
Hardy first declined to speak with reporters during the team's annual golf tournament last month. He was a smiling presence in the locker room after the first workout that was open to the media last week, but a member of the public relations staff kept reporters away.
So Hardy's teammates and coaches have been getting all the questions.
"He's done a really good job," coach Jason Garrett said. "He was here well before the offseason program got into full gear, and guys were in the weight room and out on the field working and he embraced being a part of that once the offseason program started. That's the reputation that he had from Carolina."
While Witten and quarterback Tony Romo carry a large share of the leadership role, Jeremy Mincey figures to be an important presence among defensive linemen. He emerged as a leader last year, and his voice is even stronger with the loss of fellow veterans Anthony Spencer and Henry Melton in free agency.
"He's crazy on the field just like I am," Mincey said. "Run through the wall on the field, and all the other stuff, personal stuff, you get good people around certain type of people, it rubs off on them. They become good. We've got a lot of good guys in this locker room."
Since joining the Cowboys, Hardy stirred criticism on Twitter — and earned a lecture from Garrett — over an insensitive comment about the Sept. 11 terrorist attacks. And he had a verbal spat with defensive lineman Davon Coleman in one of the first offseason workouts.
But Hardy also has earned praise for the intensity he brings to practice.
"I just think he's being himself," defensive coordinator Rod Marinelli said. "The best way to make an impression is just be yourself, but be the best of who you are. And I think he's doing that."
(Visited 17 times, 1 visits today)