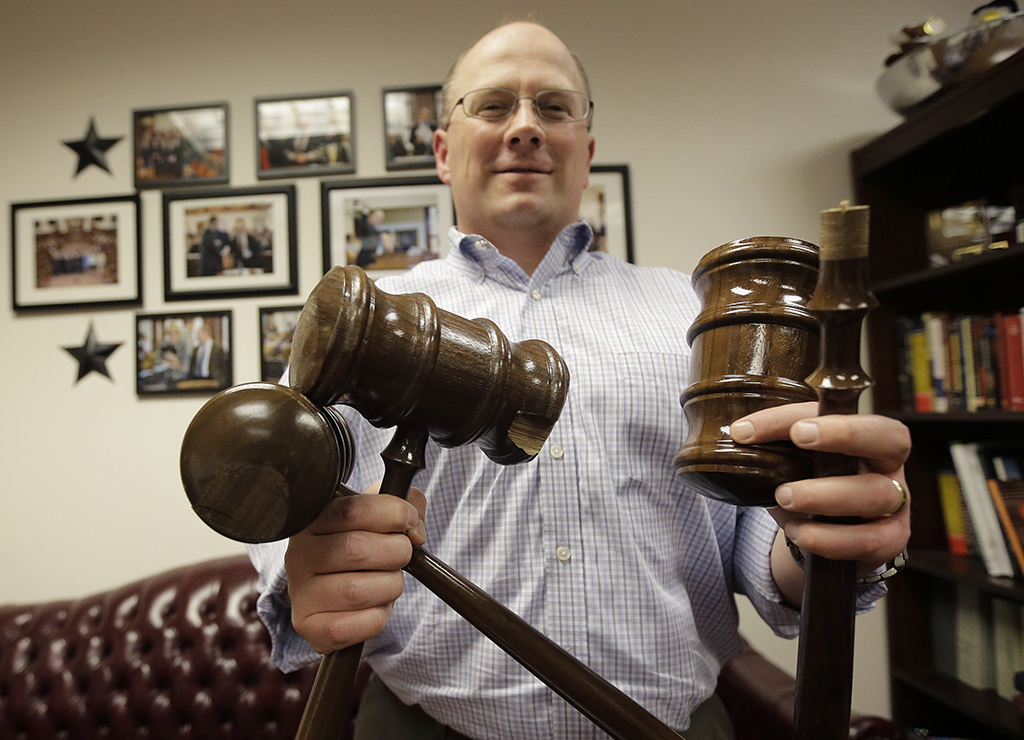 EVA RUTH MORAVEC
Associated Press
AUSTIN At 5 feet 5 inches tall, Texas Rep. Kenneth Sheets is one of the smallest members of the Texas Legislature.
But he's often called to the House dais to preside over the chamber, where he's broken six solid, walnut gavels, crafted by Texas prison inmates, in this past 140-day session alone. None of the chamber's other 149 members — even House Speaker Joe Straus, who wields them far more often — broke any.
"I'm just passionate," said Sheets, a Dallas Republican.
Three of the fragmented gavels, which Sheets said suffered "construction defects," were sent back to the East Texas prisoners who make them to evaluate why they failed. Wear-and-tear — namely, repeatedly pounding a piece of wood against a steel plate — caused the other three to chip, separate and crack.
About 1,150 of the gavels were sold to the House and Senate this year at $38 each, with the money going to the Texas Department of Criminal Justice. They're among the items made by 4,800 men and women in Texas lockups that are sold to lawmakers and public agencies, schools and hospitals for about $5 million a year total.
The gavels are available to counties but are purchased almost exclusively by the Legislature. They're used to mark the beginning and end of meetings, get the attention of legislators and signify the end of a vote. Lawmakers hand out gavels ceremoniously, as they recently did on "John Wayne Day" to relatives of the late movie star.
The sales by Texas Correctional Industries are easily swallowed by the program's $68 million budget.
State correctional industries across the U.S. had net sales last year of $2 billion, according to the National Correctional Industries Association.
Texas, Georgia and Arkansas are the only three U.S. states that don't pay inmates for work, although other states' wages are very low.
Jason Clark, Texas' corrections department spokesman, said workers receive "marketable job skills." He added, "Woodworking is a trade that they can use out in the free world."
But Alex Friedman, managing editor of Prison Legal News, wonders how useful such skills are to former inmates.
"How many private companies are making gavels? You would expect Texas Correctional Industries pretty much has a monopoly on that market," said Friedman, whose publication is run by the prison advocacy group the Human Rights Defense Center.
While most prison-made products are purchased by public agencies, less than 1 percent of sales are to lawmakers, Clark said. The acquisitions, though seldom made, often make headlines.
Rep. Debbie Riddle was scrutinized in 2011 for giving campaign donors gifts made by inmates, like replicas of Texas Capitol furniture, leather rifle cases and Lone Star flag cutting boards. In 2003, Sen. Eddie Lucio spent $6,319 furnishing his dining room and a private chapel with inmate-made products including a holy water font and altar chairs. Both said there was nothing improper about doing so.
(Visited 31 times, 1 visits today)