Queen Elizabeth to visit France for D-Day tribute
GREGORY KATZ
Associated Press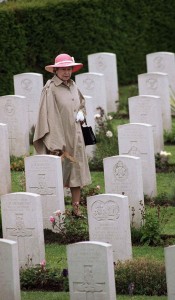 LONDON — The queen's joints are creaky and her husband has recently battled serious illness, but the royal couple won't let aches and pains keep them away from a grand overseas commemoration: the 70th anniversary of the D-Day invasion.
Queen Elizabeth II, 88, and Prince Philip, 92, have for the most part stopped traveling abroad, but next week they intend to be in Normandy for ceremonies to honor those who sacrificed their lives to liberate Europe from the Nazi grip.
The perils of World War II directly shaped their lives.
Historian Antony Beevor, a renowned chronicler of World War II, said Queen Elizabeth II and Prince Philip want to show their solidarity with the dwindling number of living veterans, including those still strong enough to attend the events next week.
"I think it will mean a huge amount to the veterans," Beevor said. "The queen and Philip are both well aware that this is the last time a reasonable number of veterans will be able to attend. So it's very important to both of them."
The queen was a teenager during the war. As a princess, she contributed by joining the Women's Auxiliary Territorial Service, where she served as a driver and mechanic. Prince Philip was on active duty in the Royal Navy.
Many believe that this may be the final overseas trip for the queen, whose stamina and mobility have lately been affected by joint pain, Beevor said.
The monarch has recently ceded more of her duties to Prince Charles in what has been characterized as a partial transition.
Despite these changes, the queen is expected to carry on in the office she has held since 1952. She continues her private weekly meetings with the prime minister and plans to read the Queen's Speech announcing her government's program at the formal opening of Parliament next week.
The queen is also relying increasingly on the younger generation of royals, led by Prince William and his wife Kate, who will both have a prominent role in the events next week in Normandy.
The queen does plan, however, to attend a remembrance service, to meet personally with veterans and to take part in the main ceremony at Sword Beach, one of the landing spots where Allied Forces faced fire from entrenched German troops and tanks.
After the solemn events in Normandy, the queen and Prince Philip will attend a state banquet Friday night at the Elysee Palace hosted by French President Francois Hollande.
The next morning the queen's schedule is mercifully light, and she and Prince Philip plan to fly home to England just in time for her to attend the Derby at Epsom Downs Racecourse — an event that, like the D-Day commemoration, is something she would not voluntarily miss.
"That's dear to her heart, her favorite day on the racing calendar," said Joe Little, managing editor of "Majesty" magazine. "No one would begrudge her a little bit of pleasure."
(Visited 75 times, 1 visits today)