Tea party candidates prevail in Texas runoff elections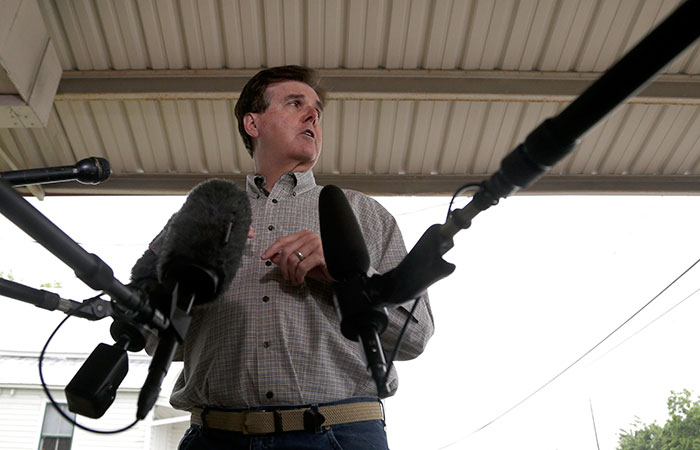 JIM VERTUNO
Associated Press
Republican voters appeared ready to push Texas even further to the right Tuesday by backing tea party favorites over establishment candidates, casting out Lt. Gov. David Dewhurst in favor of a state senator who sharpened his policy and debating skills as a firebrand radio talk show host.
Dan Patrick, who emerged as the front runner from the first round of voting, easily beat Dewhurst in the primary runoff, ending the political career of a multimillionaire energy businessman who has been lieutenant governor since 2003. Dewhurst had said this would be his final campaign.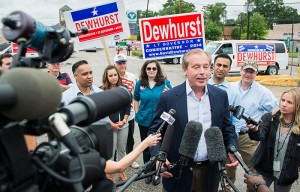 With Texas Democrats again the underdogs in November, many tea party-aligned candidates who won Tuesday are poised to pursue an aggressively conservative agenda that would likely include further spending cuts, expanded gun rights and more restrictions on abortion and illegal immigration.
Tuesday's Republican runoffs settled nominations for four major offices and nearly a dozen statehouse seats.
In the GOP campaign for attorney general between two state legislators, tea party-backed Ken Paxton beat Dan Branch, who is a member of the House leadership team.
Sid Miller won the nod for agriculture commissioner over his colleague in the Legislature, Tommy Merritt, whom he accused of being too moderate.
Tea party-backed candidates have also admonished the Republican-controlled Legislature as being financially reckless while vowing to slash economic incentives they deride as corporate welfare.
Dewhurst poured $5 million from his personal fortune into a desperate bid to hang on to one of the state's most powerful jobs. But despite few policy differences between the candidates, Dewhurst couldn't overcome being cast as a moderate unwelcome in a Republican primary dominated by tea party interests.
Patrick swamped Dewhurst in the rematch, with early voting returns showing nearly 65 percent supporting Patrick.
The lieutenant governor presides over the state Senate. Patrick, who founded the Legislature's tea party caucus, had criticized Dewhurst as being too cozy with Democrats and for not preventing Democratic state Sen. Wendy Davis' filibuster of a 2013 measure restricting abortion, which drew national attention and launched her run for governor.
Patrick advances to the November general election against Democrat Leticia Van de Putte, a state senator from San Antonio.
Patrick's victory Tuesday also means that a new face will occupy every major statewide office in Texas next year when Gov. Rick Perry steps aside.
The Dewhurst-Patrick battle for lieutenant governor was a lightning rod of a campaign as both candidates exchanged bitter personal attacks. The campaign took a nasty turn in the final weeks as the debate veered away from policy and into Patrick's personal history after records released by a Dewhurst ally, Land Commissioner Jerry Patterson, revealed Patrick had been treated for depression and an apparent suicide attempt in the 1980s.
Robert Wilkerson, a 65-year-old handyman in Aledo, near Fort Worth, said just after the polls opened Tuesday that he voted for Patrick because he thought Dewhurst was too "passive."
"David Dewhurst hasn't taken control," Wilkerson said. "He wouldn't get in the middle of anything. He would just kind of go along with the status quo and I think we need some changes."
The runoff was less lively for Democrats, who nominated former major Republican donor David Alameel over Kesha Rogers for U.S. Senate. The Democratic Party implored voters not to support Rogers, who wants to impeach President Barack Obama.
Alameel now faces Republican Sen. John Cornyn, who is strongly favored to win his third term in November.
(Visited 16 times, 1 visits today)