Job market prepares for summer break and influx of workers (Infographic)
As summer begins, local businesses look towards teenagers to fill the vacancies.
WASHINGTON — Employers in America's vast hospitality sector all have similar laments: They can't fill many of their summer jobs because open positions far exceed the number of people willing and able to fill them, even at increased wages.
But some help may be coming. School's out for summer, cutting loose millions of high school and college students. 
Teens are in an unusually commanding position. Researchers at Drexel University predicted that an average of 33% of 16- to 19-year-olds will be employed each month this summer, the highest such rate since 2007.
Lara Beckius, a junior at Connecticut College, said she went from being stressed about finding a job to being stressed about choosing among multiple offers. Beckius settled on an internship at the Coastal Maine Botanical Gardens.
"It was a little crazy," said the 19-year-old from Avon, Connecticut. "It went from, 'Am I going to have something this summer?' to having four opportunities and, 'Which one am I going to take?'"
Today's level of teen employment isn't close to what it used to be. In August 1978, 50% of America's teenagers were working. Around 2000, teenage employment went into a decade long slide before slowly rising again as the economy recovered in 2010.
Longer-term economic forces and changing personal choices kept teens away from work, too. The U.S. economy now offers fewer low-skill, entry-level jobs than in the 1970s and 1980s. Many jobs that do remain are increasingly likely to be taken by older workers, many of them immigrants.
COVID and its economic damage changed everything, but now, the U.S. unemployment rate has dropped to 3.6%, just above a half-century low. On average, there are now roughly two jobs available for every unemployed American.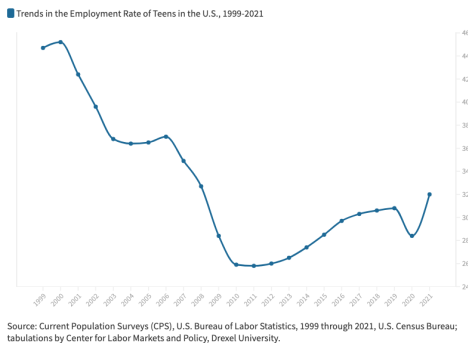 Suddenly, teenagers are in greater demand. The pay available to them — $15 or $16 an hour for entry-level work — is drawing some back into the job market. Teenage employment has already topped pre-pandemic levels even though the overall employment still hasn't.
"We have this big gap in the market now," said Julia Pollak, an economist at ZipRecruiter. "There are no takers for jobs that are typically given to teens for pocket money."
Lauren Gonzalez, who operates two hostels with her sister, is looking for a barista, a bartender, an events manager and a sales manager. She recently raised pay for housekeepers and receptionists, jobs she had previously had little trouble filling.
Gonzalez said, "I definitely throw my hands in the air sometimes and say: 'Where is everyone?'"
(Visited 12 times, 1 visits today)
Leave a Comment