Legal marijuana shops in Oregon in danger of losing their business
Marijuana prices there are in freefall, and the craft cannabis farmers who put Oregon on the map decades before broad legalization say they are in peril
PORTLAND, Oregon — When Oregon lawmakers created the state's legal marijuana program, they had one goal in mind above all else: to convince illicit pot growers to leave the black market.
That meant low barriers for entering the industry that also targeted long-standing medical marijuana growers, whose product is not taxed. As a result, weed production boomed — with a bitter consequence.
Now, marijuana prices there are in freefall, and the craft cannabis farmers who put Oregon on the map decades before broad legalization say they are in peril of losing their now-legal businesses as the market adjusts.
Oregon's Liquor Control Commission announced Wednesday they will stop processing new applications for marijuana licenses in two weeks to address a severe backlog and ask state lawmakers to take up the issue next year.
Experts say the dizzying evolution of Oregon's marijuana industry may well be a cautionary tale for California, where a similar regulatory structure could mean an oversupply on a much larger scale. "For the way the program is set up, the state (California) just wants to get as many people in as possible, and they make no bones about it," said Hilary Bricken, a Los Angeles-based attorney specializing in marijuana business law. "Most of these companies will fail as a result of oversaturation."
The oversupply can be traced largely to state lawmakers' and regulators' earliest decisions to shape the industry. They were acutely aware of Oregon's entrenched history of providing top-drawer pot to the black market nationwide, as well as a concentration of small farmers who had years of cultivation experience in the legal, but largely unregulated, medical pot program.
Getting those growers into the system was critical if a legitimate industry was to flourish, said Sen. Ginny Burdick, a Portland Democrat who co-chaired a committee created to implement the voter-approved legalization measure. To encourage this transition, lawmakers decided not to cap licenses; to allow businesses to apply for multiple licenses; and to implement relatively inexpensive licensing fees.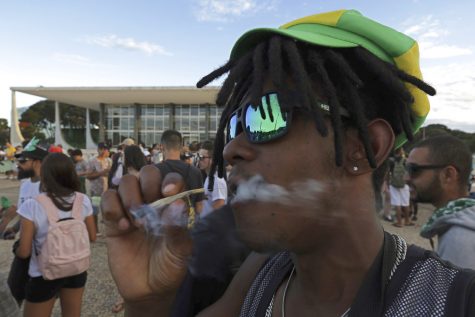 The decision to stop processing license applications comes after U.S. Attorney Billy Williams challenged state officials to address the oversupply. "In my view, and frankly in the view of those in the industry that I've heard from, it's a failing of the state for not stepping back and taking a look at where this industry is at following legalization," Williams told the AP in a phone interview.
Lawmakers also quickly backtracked on a rule requiring that marijuana businesses have a majority ownership by someone with Oregon residency after entrepreneurs complained it was hard to secure startup money. That change opened the door to deep-pocketed, out-of-state companies that could begin consolidating the industry.
Now, cannabis retail chains are emerging to take advantage of the shake-up. A company called Nectar has 13 stores around the state — with three more on tap — and says on its website it is buying up dispensaries too. Canada-based Golden Leaf Holdings bought the successful Oregon startup Chalice and has six stores around Portland, with another slated to open.
William Simpson, Chalice's founder and Golden Leaf Holdings CEO, is expanding into Northern California, Nevada and Canada. Simpson welcomes criticism that his business is to cannabis what Starbucks is to mass-market coffee. "If you take Chalice like Starbucks, it's a known quantity, it's a brand that people know and trust," he said.
Amy Margolis, the Oregon Cannabis Association's executive director, says capping licenses would only spur more consolidation in the long term. "I'm very interested to see … how this market settles itself and (in) being able to do that from a little less of a reactionary place."
For now, Oregon's smaller marijuana businesses are trying to stay afloat.
A newly formed group will launch an ad campaign this fall to tell Oregonians why they should pay more for mom-and-pop cannabis. Oregon Craft Cannabis Alliance founder Adam Smith believes 70 percent of Oregon's small growers and retailers will go out of business if consumers don't respond. "We could turn around in three to four years and realize that 10 to 12 major companies own a majority of the Oregon industry and that none of it is really based here anymore," he said. "The Oregon brand is really all about authenticity. It's about people with their hands in the dirt, making something they love as well as they can. How do we save that?"
(Visited 96 times, 1 visits today)