New North Korean nukes upset "balance of terror"
ERIC TALMADGE
Associated Press
PYONGYANG, North Korea ­— Early one winter morning, North Korean leader Kim Jong Un stood at an observation post overlooking a valley of rice paddies near the Chinese border. Minutes later, four projectiles plunged into the sea off the Japanese coast.
North Korea had just run its first simulation of a nuclear attack on a U.S. military base.
North Korea, which is testing ballistic missiles faster than ever, is rapidly becoming a better equipped and more formidable adversary. Some experts believe the country might be able to build missiles advanced enough to reach the United States in two to three years.
And that poses a game-changing problem for the U.S., which is also escalating. It successfully shot down a target ICBM launched from a Pacific island with a California-based interceptor missile on Tuesday, in a simulation a North Korean attack.
If North Korea launches a preemptive nuclear strike on an American military base in Asia, would the U.S. recoil and retreat? Would it strike back and risk losing Washington in a second wave of attacks?
In the March launch, North Korea sent four Scuds into the ocean 185 to 220 miles off Japan's coast. State media called it a drill of troops who will "strike the bases of the U.S. imperialist aggressor forces in Japan in a contingency." They said Kim was accompanied at the launch by nuclear weapons specialists.
Analyst Jeffrey Lewis and his colleagues at the Center for Nonproliferation Studies in Monterey, California, quickly realized the Scuds were on a trajectory that, with a southerly tweak, would have sent them raining onto Marine Corps Air Station, Iwakuni, on the southern tip of Japan's main island.
Before the simulation, U.S. and South Korean forces were conducting joint military drills involving F-35 fighters based at Iwakuni, home to some 10,000 U.S. and Japanese personnel. The F-35s had reportedly trained for a "decapitation strike" on Kim Jong Un and his top lieutenants.
Kim, apparently, was practicing how to take them out first.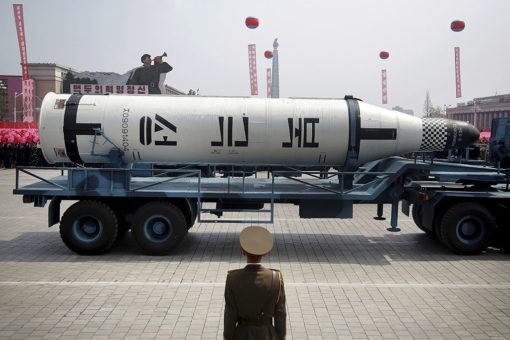 The Cold War concept of "mutually assured destruction" works when each side is convinced neither would survive. The North isn't likely to reach that stalemate level. But if it succeeds in building nuclear-tipped ICBMs that can reach the U.S. mainland, the dynamic could be much more volatile.
On April 15, Kim Jong Un watched military units from his million-man armed forces march by and then applauded at the most varied array of missiles and transport vehicles the country has ever displayed.
The message of this year's military parade was clear. North Korea is, or is nearly, able to strike preemptively against a regional target. It is preparing to withstand a retaliatory attack if it does, and it is building the arsenal it needs to then launch a second wave of strikes, this time at the U.S. mainland.
Its vision of a new "balance of terror" reached a crescendo as six submarine-launched missiles and their land-based cousin rumbled through the square.
Submarines are the ultimate stealth weapon, mobile and hard to find, and the land-launched missile version is also all about stealth. It uses solid fuel, which means it can be stored, hidden and moved to rough terrain for a quick launch. Kim Jong Un has ordered it be mass produced.
The big reveal of the parade came next: the unveiling of the "Hwasong 12."
A month after the parade, it was sent about 1,240 miles in altitude and remained airborne for 30 minutes. The North's media said it can carry a "large-size heavy nuclear warhead."
Kim claimed it shows he has an "all-powerful means for retaliatory strike."
That's bravado. The missile's estimated striking range is 2,800 miles, give or take.
But, put another way, it's halfway to Chicago.
(Visited 19 times, 1 visits today)