Muslims call Dutch politican's plan to broadcast cartoons of Muhammad intentional provocation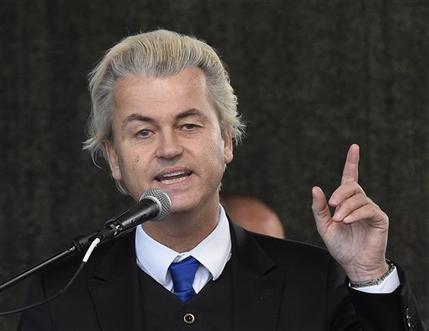 MIKE CORDER
Associated Press
THE HAGUE, Netherlands Moderate Dutch Muslims on Thursday called anti-Islam lawmaker Geert Wilders's plan to broadcast cartoons of the Prophet Muhammad on national television a provocation.
This comes after Wilders announced his plan to use airtime granted to political parties to show cartoons from a contest in Garland, Texas last month that was targeted by two armed attackers. Wilders spoke at the contest in Texas, but left before the foiled attack that left both gunmen shot dead.
Islamic tradition holds that any physical depiction of the Prophet Muhammad is blasphemous. It appears, however, that Muslims in the Netherlands may be growing accustomed to Wilders' fierce criticism of their faith.
Muslims in the Netherlands "are no longer easy to offend," said lawyer Ejder Kose, who once represented a Muslim organization that tried unsuccessfully to ban a short film made by Wilders.
Wilders established and leads the Freedom Party that holds 12 of the 150 seats in the parliament's lower house.
Wilders' anti-Islam rhetoric has in the past sparked outrage around the Muslim world and prompted death threats that have led to him living under round-the-clock protection.
Yassin Elforkani, spokesman for the Contact Group for Muslims and Government, agreed that people are growing accustomed to Wilders.
"It is provocation from Mr. Wilders that we have been used to for years," Elforkani said in a telephone interview.
Wilders denied he was being provocative for the sake of it, and he said in an emailed reaction that he wants to show the cartoons to support freedom of expressions and demonstrate to extremists that their violence won't silence him.
"Never capitulate. Never give in to fear," he wrote. "Always continue with more power and conviction."
A date hasn't been set for Wilders' broadcast.
The Dutch government said Wilders' comments hadn't prompted any change in the country's terror threat level.
(Visited 52 times, 1 visits today)