Tour bus crashes with tractor-trailer killing three
MICHAEL RUBINKAM
Associated Press
TOBYHANNA, Pa. A charter bus taking Italian tourists to Niagara Falls collided with a tractor-trailer Wednesday on an eastern Pennsylvania highway, killing the bus driver and two others on the bus and leaving four people in critical condition, authorities said.
The crash occurred shortly after 10 a.m. on Interstate 380 in the Pocono Mountain region as the bus, which departed from the New York metro area, was about a quarter of the way to its destination.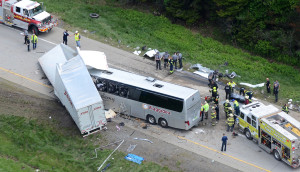 The mangled front end of the bus was upright on the highway but wedged into the side of the tractor-trailer, which was sheared in half. The cab of the truck came to rest on its side in the woods next to the road, and one of its axles was torn off.
All three of those killed were on the bus, which had 17 passengers, Monroe County Coroner Robert Allen said.
Academy Bus, a privately owned and operated transportation company, identified its driver as one of the three dead. It said the driver had more than a decade of experience with the company but declined to provide any other information.
More than a dozen people were injured and taken to hospitals, where most were being treated for mild to moderate injuries. Allen said the truck driver did not appear to have been severely injured.
State police said a second tractor-trailer was reported to have been involved, but investigators were trying to determine what happened.
The bus appears to have been chartered by Viaggidea, an Italian tour operator whose name is on the bus. The company operates tours that head from New York to Niagara Falls and Canada and elsewhere around the country.
There was no answer late Wednesday at its parent company, Alpitour, in Turin, Italy. A woman who answered the phone at the company's Viaggidea offices in Milan said she knew nothing about the crash and referred comment to Alpitour.
The tractor-trailer was owned by the Xtra Lease company. The company's attorney said officials did not yet know who was leasing the vehicle.
(Visited 40 times, 1 visits today)