Co-champions reign supreme at Scripps National Spelling Bee
BEN NUCKOLS
Associated Press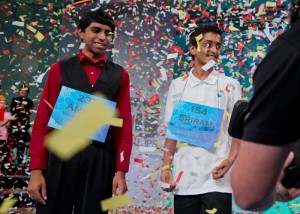 OXON HILL, Md. — For the first time in 52 years, two spellers were declared co-champions of the Scripps National Spelling Bee on Thursday.
Sriram Hathwar of Painted Post, New York, and Ansun Sujoe of Fort Worth, Texas, shared the title after a riveting final-round duel in which they nearly exhausted the 25 designated championship words. After they spelled a dozen words correctly in a row, they both were named champions.
Earlier, 14-year-old Sriram opened the door to an upset by 13-year-old Ansun after he misspelled "corpsbruder," a close comrade. But Ansun was unable to take the title because he got "antegropelos," which means waterproof leggings, wrong.
Sriram entered the final round as the favorite after finishing in third place last year. Ansun just missed the semifinals last year.
They become the fourth co-champions in the bee's 89-year history and the first since 1962.
"The competition was against the dictionary, not against each other," Sriram said after both were showered with confetti onstage. "I'm happy to share this trophy with him."
Sriram backed up his status as the favorite by rarely looking flustered on stage, nodding confidently as he outlasted 10 other spellers to set up the one-on-one duel with Ansun. The younger boy was more nervous and demonstrative, no more so than on the word that gave him a share of the title: "feuilleton," the features section of a European newspaper or magazine.
"Ah, whatever!" Ansun said before beginning to spell the word as the stage lights turned red, signaling that he had 30 seconds left.
Although they hoisted a single trophy together onstage, each will get one to take home, and each gets the champion's haul of more than $33,000 in cash and prizes.
Gokul Venkatachalam of Chesterfield, Missouri, finished third, and Ashwin Veeramani of North Royalton, Ohio, was fourth.
Both champions are Indian-American. The past eight winners and 13 of the past 17 have been of Indian descent, a run that began in 1999 after Nupur Lala's victory, which was later featured in the documentary "Spellbound."
Five memorable moments from Thursday's semifinals of the Scripps National Spelling Bee:
— Jae Canetti of Falls Church, Virginia, making his third appearance in the bee, was eliminated from the semifinals immediately after ESPN2 profiled him and his family. His mother was diagnosed with cancer just two months before last year's bee, which he said affected his preparation and concentration, and he missed the semifinals by one point. She has since recovered and was in the audience Thursday.
Jae received a standing ovation after he misspelled "parseval," a non-rigid airship.
"That show of support really has comforted me," Jae said afterward in a televised interview.
Normally calm onstage, Jae squinted and fidgeted as he tried to guess the word. The 12-year-old seventh-grader has one year of eligibility remaining.
"The one word I didn't know, pretty much," Jae said. "I've just got to study more German."
— Meghana Kamineni of Lockport, Illinois, correctly spelled "cachinnate," which means to laugh loudly. Two spellers later, given the word "epixylous," Lucas Urbanski of Crystal Lake, Illinois, got the biggest laugh of the semifinal round with a question for pronouncer Jacques Bailly.
"Can you make me cachinnate with a sentence?" Lucas said.
— At 5-foot-10, finalist Kate Miller of Abilene, Texas, is accustomed to towering over her fellow spellers. She also has the longest hair, which reaches below her waist. A dancer and an aspiring writer, her hobbies include film analysis, knitting Rodentia and "crafting irreverent travesties of pop songs," according to her official spelling bee biography.
"I'm not the tallest speller, but I'm the tallest finalist," Kate said. "When I competed in sixth grade, I was 5-8, and when I competed in seventh grade, I was 5-9, and in eighth grade, fittingly, I'm 5-10."
Kate smiled throughout her time onstage and leaned over to speak into the microphone. She said she enjoys being nervous, and she admitted her first semifinal word, "duello," was "a complete guess."
"I feel more alive when I'm nervous. I think that a bit of nervous energy, not debilitating to the point where you can't remember what you've learned, but a certain amount of nervousness really does help you," she said. "It helps you remember why you're there."
— It rarely happens in the semifinal round of the National Spelling Bee, but sometimes, a word is spelled exactly like it sounds.
Finalist Ansun Sujoe of Fort Worth, Texas, was momentarily flummoxed when asked to spell "laulau," a Hawaiian-derived word for meat or fish wrapped in leaves and baked or steamed.
"What does this mean?" he asked incredulously.
After getting the definition and other context from Bailly, he was resigned to guess.
"Oh, laulau, OK," he said, before spelling the word correctly.
— The youngest speller in the finals is happy to be there.
Making his first appearance in the National Spelling Bee, 11-year-old Tejas Muthusamy of Glen Allen, Virginia, exceeded his own expectations by advancing to the championship round. He spelled "commorients" and "exsiccosis" correctly during the semifinals.
Afterward, he admitted there was some luck involved.
"I never expected that I could get to the semifinals in the first place," he said. "There were many hard words in round six that I did not know."
(Visited 84 times, 1 visits today)