Texas explosion kills woman; infant daughter survives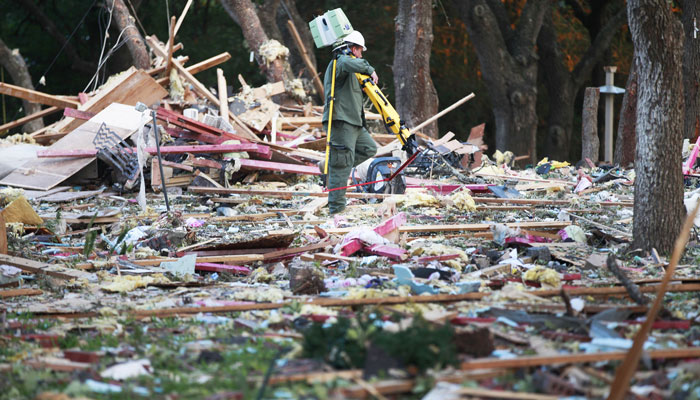 Associated Press
VICTORIA, Texas — A woman was killed but her 4-month-old infant appears to have escaped serious injury in an explosion that levelled their home.
Officials are investigating to find the cause of the blast Wednesday that killed 26-year-old Haley Singer, Victoria County Sheriff T. Michael O'Connor said. Firefighters found her daughter, Parker, alive in the debris. The child was being treated at a hospital in San Antonio, about 100 miles to the northwest.
Authorities said Singer's body was found in what had been the kitchen area. Her infant was recovered between two mattresses that were buried under lumber and other wreckage.
"When we arrived on there and just saw rubble, I mean literally rubble, there was no remnants of a house whatsoever," O'Connor said.
Firefighters heard cries and began digging, then brought in air bags and jacks to assist in removing the debris.
"And that's where they discovered the infant," O'Connor said. "The fact that the child survived is incredible."
Fire Marshal Ron Pray told The Victoria Advocate Singer's husband had left for work shortly before the explosion ripped their two-story home.
Nearly a dozen homes in the area were damaged. A woman in the house next door was buried under broken drywall, but authorities said she was not seriously hurt.
Propane gas was an energy source in the home but officials would not immediately say if it was a source for the explosion.
___
Information from: The Victoria Advocate
(Visited 16 times, 1 visits today)