Syrian refugees flood embassies around the world to vote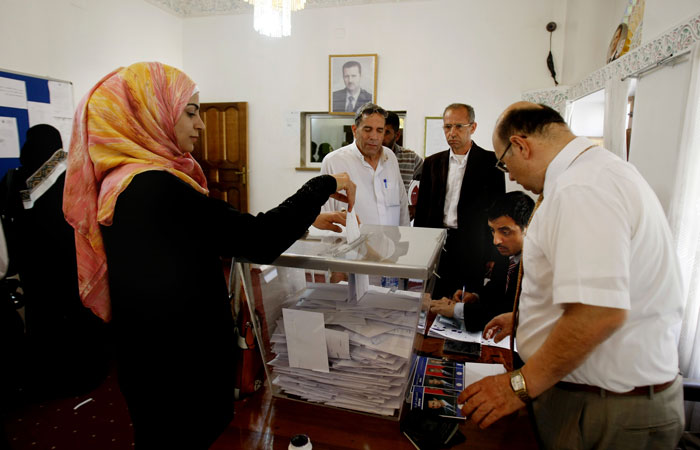 BASSEM MROUE
Associated Press
YARZE, Lebanon — Tens of thousands of supporters of Syrian President Bashar Assad voted Wednesday at embassies abroad, clogging entrances and clashing with soldiers overwhelmed by their sheer numbers a week before an upcoming national election.
But reflecting the schism within Syrian society, many of the estimated 2.5 million refugees scattered across neighboring countries were either excluded, or abstained, from the balloting.
The June 3 election is all but guaranteed to give the 49-year-old Syrian leader a new mandate to continue with his crushing of the armed rebellion.
Bassem Zammam, a 45-year-old Syrian sculptor who arrived in Sweden as a refugee 45 days ago, said his vote for Assad is more a reflection of his support for his country rather than its leader.
"I like stability, I like (the safety) that we missed because of those savages," Zammam said, adding that he initially supported the rebels but changed his view because he felt they weren't really seeking freedom. He said rebel mortar fire had wounded his children and destroyed his house.
In Sweden, which has received some 30,000 Syrian asylum seekers since 2011, Syrians from opposing sides of the conflict gathered outside the embassy in Stockholm to express their views and cast their ballots.
Police stood between the two groups as emotions ran high, with pro-Assad Syrians outnumbering those opposing him.
Wednesday's expatriate voting in countries as far as Brazil turned into a show of support for Assad, particularly in Lebanon, long dominated by its bigger and far more powerful neighbor.
Tens of thousands of Assad supporters flocked to cast ballots at the hilltop embassy in Yarze, a town southeast of the Lebanese capital, Beirut. The ensuing chaos snarled traffic, trapping schoolchildren in buses for hours and forcing some schools to cancel scheduled exams.
Syrian authorities have said that only those who entered Lebanon legally could vote, effectively ruling out tens of thousands of refugees' mostly opponents of Assad' who crossed through unofficial border posts for fear of authorities.
About 1.1 million Syrians live in Lebanon as refugees. Even before the Syrian war, Lebanon had close to a million Syrian workers.
Clashes outside the embassy compound in Yarze broke out when Syrian voters started pushing against the Lebanese soldiers in their desperation to get into the building. Soldiers beat the voters back with batons and sticks.
Pandemonium ensued inside the embassy as well. Voters pushed inside a small room with four ballot boxes and voted publicly. At times, election workers were seen grabbing the ballots and stuffing them inside the boxes themselves. No one appeared to be checking who was voting or how many times.
Hanging out of a car with a Syrian flag in hand, Ibrahim Hadid said he was voting for Assad.
"What, you expect us to vote for the traitor Jarba?" he said, referring to the head of the main Western-backed opposition group, which is boycotting the vote. Ahmad Jarba is not running in the election.
In Amman, Jordan, where the government supports the rebels, Syrians lined up outside their embassy to vote. But dozens gathered outside to protest, some carrying placards that read: "Anyone who votes has no morals."
At Jordan's sprawling Zaatari camp, refugees bitterly scoffed at the election.
"We will never accept such elections, because they are fake elections, and we call upon all the Arab countries to expel Syrian ambassadors," said Ali al-Faouri, who fled the southern Syrian city of Daraa.
Long lines formed at embassies in Iraq and Iran and in some European capitals. But a few countries including France and Germany barred voting, citing an international convention that gives the host government the authority to decide whether to allow an embassy to conduct elections.
(Visited 30 times, 1 visits today)