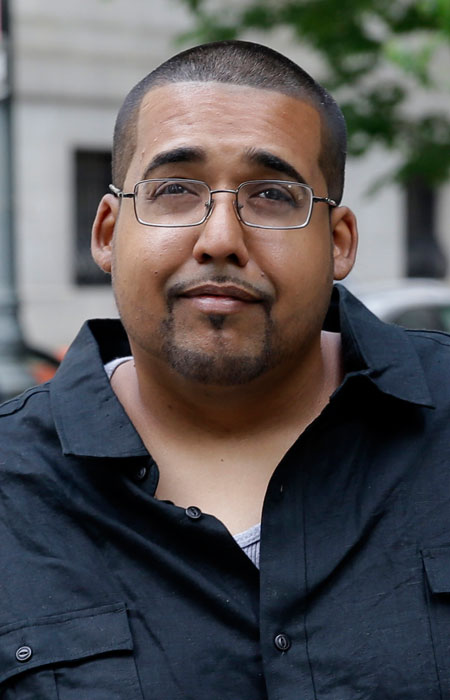 NEW YORK — A computer hacker who helped the government disrupt hundreds of cyberattacks on Congress, NASA and other sensitive targets and cripple the hacktivist crew known as Anonymous got a hero's welcome at his sentencing in federal court on Tuesday.
A federal judge cited Hector Xavier Monsegur's "extraordinary cooperation" before saying he will not serve more than the seven months he spent in prison two years ago. Federal guidelines had called for more than 20 years in prison.
Prosecutors said he cooperated with the FBI, helping disrupt or prevent hacks against divisions of the U.S. government, international intergovernmental organizations and several private companies, including a television network, a security firm, a video game maker and an electronics conglomerate.
Starting in early 2011 and using the alias Sabu, Monsegur led an Anonymous splinter group called Lulz Security, or LulzSec, which hacked the computer systems of Fox Television, Nintendo, PayPal and other businesses, stole private information and bragged about its exploits online.
Search halts for ranchers missing in Colorado slide
COLLBRAN, Colo. — The search for three ranchers who disappeared after a huge mudslide in a remote part of western Colorado was called off Tuesday as authorities turned their attention toward monitoring for another potential slide.
Mesa County Sheriff Stan Hilkey said the slide remained too unstable to continue looking for the men, who were checking on problems with an irrigation ditch caused by an initial slide Sunday when a large chunk of a ridge broke off, sending soggy earth spilling for 3 miles. The slide is about three-quarters of a mile across and several hundred feet deep at the center.
Hilkey said the rural area slide most likely was triggered by runoff from Grand Mesa — one of the world's largest flat-topped mountains — following two days of strong rain.
Energy companies working in the area have suspended operations. Hilkey said there could be another search for the missing men once conditions stabilize.
Californians seek money stashed by 'Hidden Cash'
SAN FRANCISCO —­ Someone's dropping envelopes full of cash across San Francisco, causing a social media frenzy.
The mysterious person with the Twitter handle @HiddenCash has been hiding money throughout the city since Friday. His Twitter following has exploded from a few hundred on Friday to more than 75,000 and counting by Tuesday.
Hidden Cash's creator said his giveaways are a "social experiment for good." He claims to make his money off San Francisco's real estate market and hopes that winners also pay it forward.
Adam Wenger, a 27-year-old web producer, said he won $200, finding two envelopes Friday in the city's South of Market District.
Michelle Obama responds to school meal critics
WASHINGTON — First lady Michelle Obama is striking back at House Republicans who are trying to weaken new school meal standards, saying any effort to roll back the guidelines is "unacceptable."
The rules set by Congress and the administration over the last several years require more fruits, vegetables and whole grains in the lunch line and set limits on sodium, sugar and fat. On Tuesday, the first lady met with school nutrition officials who said the guidelines are working in their schools.
She suggested that the conversation should be focused on helping schools rather than rolling back some of the standards completely.
The Agriculture Department has tweaked rules to try to help schools that have concerns. The department scrapped limits on the amount of proteins and grains that students could eat after students complained they were hungry.
A spending bill approved by a House subcommittee last week would allow schools to waive the standards if they have a net loss on school food programs for a six-month period.
— Associated Press
(Visited 28 times, 1 visits today)