Obama jokes to students about his lacking accomplishment in science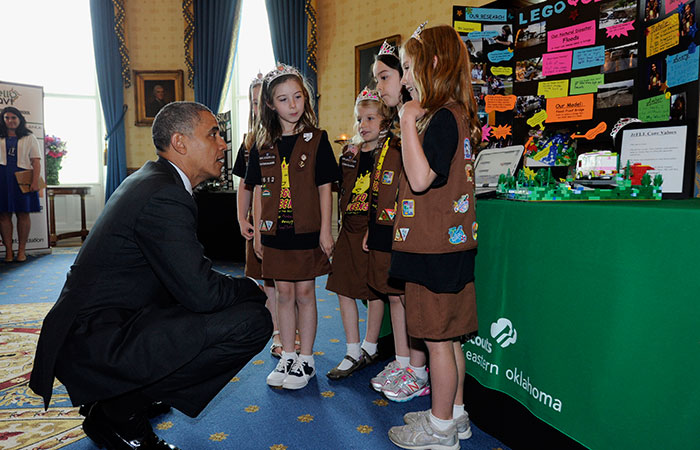 JIM KUHNHENN
Associated Press
WASHINGTON — President Barack Obama confessed to feeling a little bit, well, unaccomplished.
There was the catapult-armed mannequin that shot three-point baskets, the 18-year-old cancer researcher and the second-grade Girl Scouts from Tulsa, Oklahoma, with their Lego "flood-proof" bridge design.
"I'm such an underachiever," Obama said after chatting with Eric Chen at Tuesday's annual White House Science Fair. Chen, a Harvard-bound San Diego, California, high school senior, won grand prizes at the 2013 Google Science Fair and the Siemens Competition in Math, Science and Technology for identifying new drug candidates for the treatment of influenza.
It's an annual self-deprecating routine for the Harvard trained lawyer and 44th president of the United States, who happily recounts his personal challenges in the fields of science, technology, engineering and math.
"One year I accidentally killed some plants that were part of my experiment," he told Tuesday's White House Science Fair audience. "Another time a bunch of mice escaped in my grandmother's apartment. These experiments did not take me straight to the White House."
This year, Obama drew special attention to the science and engineering achievements of girls and young women, noting that men outnumber women studying and working in engineering and computer science.
"Half our team we're not even putting on the field," he said. "We've got to change those numbers."
Obama announced a new $35 million Education Department competition to train the best math and science teachers. He also announced an expansion of AmeriCorps to help teach science and math to 18,000 low-income students this summer, and national science and math mentoring projects in Chicago; Philadelphia; San Francisco; Allentown, Pennsylvania; Indianapolis; the Research Triangle Park in North Carolina; and Wichita, Kansas.
He noted that he often greets champion athletes at the White House, most recently the Super Bowl champion Seattle Seahawks. But he said accomplished students deserve such honors, too.
"As a society, we have to celebrate outstanding work by young people in science at least as much as we do Super Bowl winners because super-star biologists and engineers and rocket scientists and robot builders, they don't always get the attention that they deserve, but they're what's going to transform our society," he said.
Among Tuesday's displays were a "concussion cushion" designed by 19-year-old Maria Hanes of Santa Cruz, California, who aspires to be the first female collegiate head football coach. Two Massachusetts high school students, Olivia Van Amsterdam and Katelyn Sweeney, exhibited an ice rescue robot.
"So the idea would be I've fallen through the ice and sadly I probably didn't make it, but, you know, Michelle still wants to find me," Obama said, seeking to understand the work of the device.
And then there was Peyton Robertson, a 12-year-old from Fort Lauderdale, Florida, who wowed Obama with two inventions — "sandless" flood retention sandbags and retractable bicycle wheels.
"If you can buy stock in Peyton," Obama chuckled later, "you should do so now."
(Visited 45 times, 1 visits today)