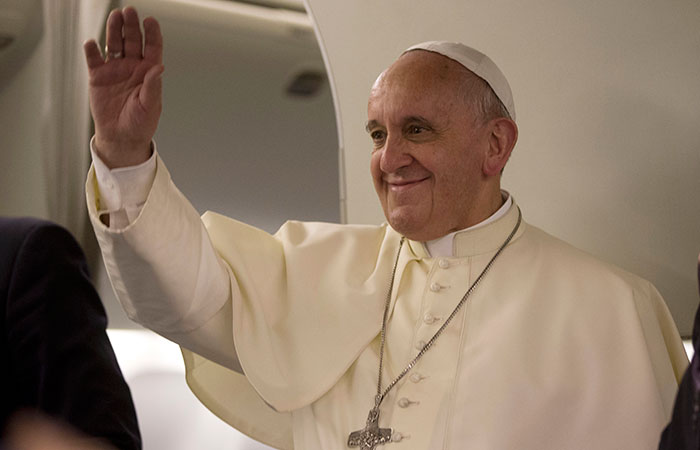 NICOLE WINFIELD
Associated Press
Pope Francis said his plan to meet with a group of sex abuse victims is part of an effort to move forward with "zero tolerance" in confronting and preventing clergy abuse, but the head of a U.S. victims' group has dismissed the upcoming session as a meaningless gesture.
The meeting with a half-dozen victims, announced Monday, is being organized by Cardinal Sean O'Malley, the archbishop of Boston. It will mark the first such encounter for the pope, who has been criticized by victims for not expressing personal solidarity with them when he has reached out to other people who suffer.
"On this issue we must go forward, forward. Zero tolerance," Francis said, calling abuse of children an ugly crime that betrays God. He said the meeting and a mass at the Vatican hotel where he lives would take place early next month.
The Archdiocese of Boston said in a statement that the details of the meeting haven't been finalized yet, and that O'Malley "looks forward to supporting this effort by Pope Francis in whatever manner will be most helpful." The archdiocese said the meeting was expected to take place in the coming months.
O'Malley was instrumental in setting up a meeting six years ago between clergy sex-abuse victims and Francis' predecessor, Pope Benedict XVI. In April 2008, Benedict and O'Malley met for about 25 minutes with about a half-dozen victims, all adults from O'Malley's archdiocese who had been molested when they were minors.
David Clohessy, executive director of the main U.S. victims' group, Survivors Network of Those Abused by Priests, or SNAP, said Pope Francis has shown himself to be capable of making real change in other areas such as church governance and finance but has not done so in dealing with sexual abuse by Catholic clergy.
"The simple truth is this is another gesture, another public relations coup, another nice bit of symbolism that will leave no child better off and bring no real reform to a continuing, scandal-ridden church hierarchy," he said, adding that the meeting "is just utterly, utterly meaningless."
A lawyer who represents clergy abuse victims said he hoped the meeting would be "substantive and meaningful" rather than for cosmetic purposes.
Boston attorney Mitchell Garabedian said "meeting directly with victims is the most powerful tool that the pope can use in understanding the ugliness and horror of clergy sexual abuse and why it must be stopped or prevented." He added that there should be more than one such meeting.
The pope also revealed that three bishops are currently under investigation by the Vatican for abuse-related reasons, though it was not clear if they were accused of committing abuse itself or of having covered it up.
"There are no privileges," Francis told reporters en route back to Rome from Jerusalem.
Winfield reported from aboard the papal airplane, and Hajela reported from New York. Associated Press writer Josh Cornfield in Philadelphia contributed to this report.
(Visited 21 times, 1 visits today)