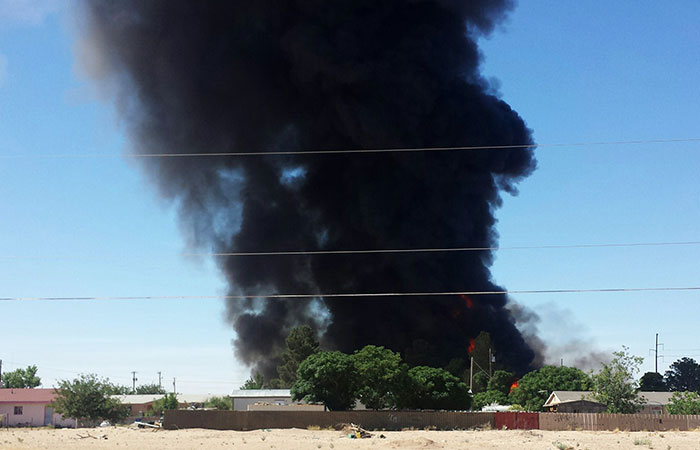 JUAN CARLOS LLORCA
Associated Press
ANTHONY, N.M. — A New Mexico biofuel facility caught fire Tuesday, sending a giant column of black smoke into the air and prompting authorities to briefly evacuate an area that included about 350 homes.
A series of small explosions was reported at the Rio Valley Biofuels plant near the town of Anthony, but there was no immediate word of injuries, Doña Ana County spokesman Jess Williams said. Operations Manager Jed Smith said he believed all five employees who work at the plant were OK.
County officials activated their emergency operations center and declared a hazardous materials emergency, Williams said. The immediate area was evacuated, but residents were allowed back into their homes by early afternoon.
Anthony is on the New Mexico-Texas border between Las Cruces, New Mexico, and El Paso.
Witnesses described hearing loud explosions and seeing large flames as fire trucks and emergency responders rushed to the scene.
"We heard a few explosions, then a really loud one," witness Miguel Favela said. "You could hear the fire burning."
The fire was first reported shortly after 9 a.m. A Rio Valley Biofuels manager said about 2 1/2 hours later that it was "basically out — smoldering." Crews were still dousing the site with water several hours after the accident.
Williams and Smith both said the cause of the fire was not yet known.
The half-mile area around the plant was evacuated because of the threat of blasts from the methanol on the premises, authorities said. Other chemicals on site include vegetable oil, hydrochloric acid and bio-diesel fuel.
Rio Valley Biofuels began commercially producing biodiesel fuel from recycled oil from local food processors in 2006, according to the company's site. It gets oil from sources that include vegetable oil, crude cottonseed, sunflower, soy, palm and canola.
The plant produces between 3,000 and 6,000 gallons a day, according to the company website.
County hazardous-materials specialists plan to inspect the site more to determine what chemicals may have been affected or released in the fire.
Fire crews from several agencies responded to the biofuel facility, along with sheriff's deputies and New Mexico State Police.
Associated Press Writer Paul Davenport contributed to this report from Phoenix.
(Visited 187 times, 1 visits today)