Ukraine, Russia operations intensify; dozens dead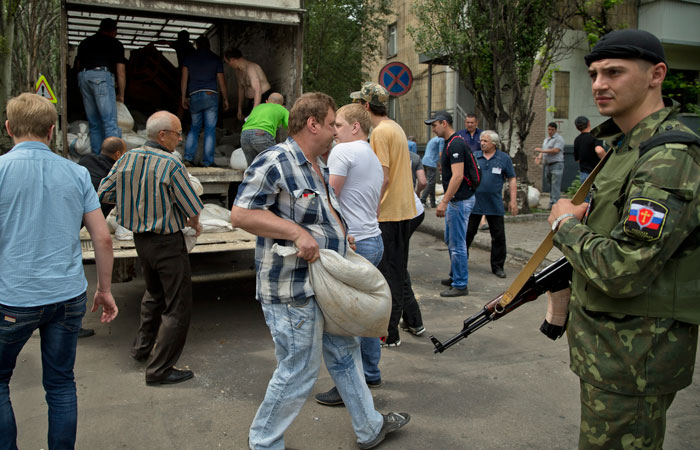 PETER LEONARD
Associated Press
DONETSK, Ukraine — Dozens of dead insurgents lay piled in a van outside a morgue Tuesday, and a rebel said more were on the way. Bomb disposal experts disarmed a mortar round lodged in a corpse. A wrecked and blood-soaked truck at the Donetsk airport showed the grisly aftermath of battle.
The fight for eastern Ukraine seems to have taken a ferocious turn, as both sides step up their attacks after the rebellious regions mostly boycotted a presidential election that delivered a decisive winner.
Following a day and night of the heaviest and most sustained assault by Ukrainian government forces to date, the pro-Russia separatist movement finds itself facing an emboldened and resolute national leadership.
With Sunday's election of billionaire Petro Poroshenko to the presidency, Kiev has received grudging and tentatively positive diplomatic overtures from Russia.
But with evidence that non-standard military officials are continuing to pour into Ukraine from Russia, it remains unclear whether the Kremlin is encouraging fighters, whose attack Monday on the Donetsk International Airport showed their increasing aggression.
What is certain is that the Ukrainian government's anti-insurgent operation has been kicked into a higher gear, with the military unleashing fighter jets, helicopter gunships and heavy artillery.
Government opponents insist they have taken up arms to defend eastern Ukraine's Russian-speaking population and have appealed to Moscow for assistance. Kiev condemns the insurgents as "terrorists" bent on tearing the country apart.
Donetsk Mayor Alexander Lukyanchenko said 40 people, including two civilians, were killed in fighting after government troops thwarted a rebel attempt to seize the airport, Ukraine's second-largest.
The bodies of about 30 insurgents were brought Tuesday morning to the Kalinin Hospital morgue, said Leonid Baranov of the self-proclaimed Donetsk People's Republic. The fighters had been wounded and were being transported to a hospital in a truck when it was shot up by government forces, he said.
Inside the morgue, bodies were stacked crudely in heaps. Some were missing limbs. Experts removed an unexploded mortar round that had embedded itself in one man's abdomen.
Baranov said up to 100 rebels were probably killed in combat, but many bodies had not yet been recovered because they were in areas under government control. His death toll could not be independently confirmed.
"As they are controlling the airport and the fight was there … we cannot right now identify exactly how many victims we have," Baranov said, adding that hundreds were also wounded.
A bloody flatbed truck stood wrecked outside the airport, with body parts and teeth strewn around it. Rebels said it had been fired upon by a helicopter.
After being squeezed out of the airport following hours of intense fighting, insurgents called in several hundred reinforcements. Many were from a unit calling itself the Vostok — or East — Battalion, which Donetsk People's Republic representatives have said includes combatants from Russia's North Caucasus.
Later, Ukrainian forces pounded rebel positions, forcing the fighters to retreat in disarray. One overturned truck down the road from the airport showed signs of having struck a tree at high speed.
In an emergency-televised address Tuesday, the Donetsk mayor warned residents to stay indoors but also gave assurances that government troops would not push into the city center.
Sporadic gunfire was heard throughout the day around the airport. Many shops and restaurants in Donetsk did not open. One resident, Alexander German, built a sandbag barricade at a crossroad near the overturned truck.
"We're defending ourselves. They insult us, call us bandits. Do you see weapons on me?" German said, displaying his open palms.
Others nearby spoke angrily about the unrest gripping the city — fury that could intensify as what is increasingly looking like an outright military conflict picks up pace.
After Poroshenko claimed victory in the election, hopes were raised of a push for unification in the deeply divided nation. He has vowed to negotiate a peaceful end to the insurgency.
But he also compared the separatists to lawless "Somali pirates" and promised he would stop them from sowing more chaos.
The billionaire candy magnate and politician is known for his even-handed and pragmatic rhetoric, and he has supported building strong ties with Europe, but also stressed the importance of mending relations with Moscow.
President Barack Obama, who spoke with Poroshenko by phone Tuesday, plans to meet him while in Europe June 3-6, the White House said. Obama offered him the United States' full support to unify Ukraine.
Poroshenko, who has not yet been sworn in, pending official confirmation of the results, said his first step as president would be to visit the troubled East. He said he hoped Russia would support his efforts to bring stability and that he wanted to hold talks with Moscow.
But Ukraine's acting Prime Minister Arseniy Yatsenyuk said Ukraine has no intention of talking to Russia directly.
"The government's stance is unchanged: bilateral talks without the presence of the United States and the European Union do not seem possible under current conditions," Yatsenyuk said.
Since the election, the emphasis has been on ratcheting up the momentum of security sweeps.
Kiev-based political analyst Volodymyr Fesenko said this week's operations showed that the Ukrainian armed forces are becoming steadily more confident.
"The capabilities of the Ukrainian army are growing," Fesenko said. "There appears to be an emphasis on getting the separatists out of Donetsk and the big regional cities."
If the scale of Ukraine military operations is broadening, so may the size of the armed opposition, much of which is apparently drawing its manpower from Russia.
In the Luhansk region, where separatists like those in Donetsk have also declared independence from Kiev, the Ukrainian Border Guards Service said its officers repelled gunmen from Russia trying to break through the frontier. Russia's security services denied any such crossing had taken place.
Russian Foreign Minister Sergey Lavrov voiced strong concern about Ukraine's intensifying military operations, and he called for an immediate end to the fighting.
Lavrov warned Poroshenko against trying to win a quick military victory before his inauguration, saying that it would be "unlikely to create favorable conditions for a hospitable welcome in the Donetsk region."
Moscow has denied accusations by Kiev and the West that it has fomented the insurgency. Russian President Vladimir Putin annexed the Ukrainian Black Sea peninsula of Crimea in March but has stonewalled the eastern insurgents' appeal to join Russia.
Russia has kept pushing for Ukraine to decentralize its government, which would give more power to the regions and allow Moscow to keep eastern Ukraine in its sphere of influence.
__
Laura Mills and Nataliya Vasilyeva in Kiev, Ukraine, and Vladimir Isachenkov in Moscow contributed to this report.
(Visited 17 times, 1 visits today)