North Dakota tornado injures 9, destroys trailer camp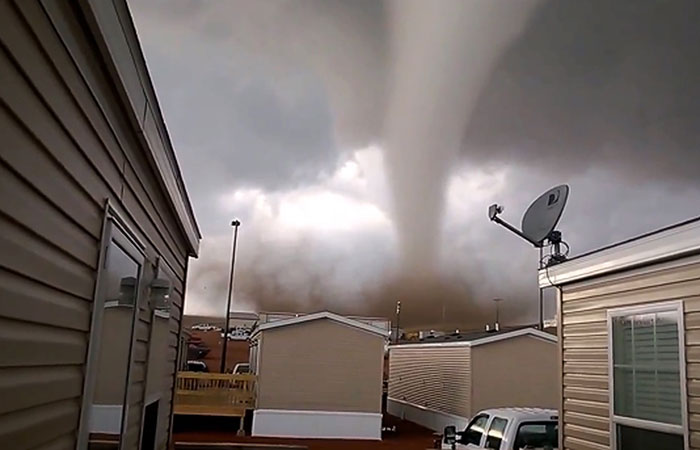 JOSH WOOD
Associated Press
WATFORD CITY, N.D. — A rare North Dakota tornado that critically injured a 15-year-old girl and hurt eight other people at a workers' camp in the heart of the state's booming oil patch packed winds that peaked at 120 mph, the National Weather Service said Tuesday.
The twister touched down Monday night at a camp just south of Watford City, about 50 miles southeast of Williston, and damaged or destroyed 15 trailers. The 15-year-old, who was from out of state and visiting an aunt and uncle, was flown to a hospital in Minot. She was in an intensive-care unit with a head injury but expected to survive, McKenzie County Emergency Manager Jerry Samuelson said Tuesday.
Samuelson did not release the girl's name or the community where she lives.
Eight other people were treated at a Watford City hospital for less serious injuries. The American Red Cross said eight residents spent the night at a shelter at Watford City's Civic Center and that several families were among those displaced.
Tornadoes are rarely reported in McKenzie County, with only 14 since 1950, with no fatalities, according to weather service data. Monday's tornado, which hit about 7:50 p.m., was an EF-2 in strength on the 0-to-5 enhanced Fujita or EF scale, the weather service said Tuesday afternoon.
Preliminary information suggests the winds of the twister peaked at 120 mph, the weather service said. A second brief tornado possibly occurred in the area based on eyewitness accounts, it said.
National Weather Service meteorologist Todd Hamilton said two meteorologists and an emergency response specialist left Bismarck at daybreak Tuesday to survey the damage at the camp.
Plywood and other debris were scattered across several hundred square feet at the site. Four trailers and a couple of other prefabricated buildings were still standing.
A heavily damaged truck was flipped over on the highway and several other abandoned vehicles were nearby. Road signs were flattened and tumbleweeds pushed up against some electrical wires.
Don Dailey lives in a camp about 200 yards from the one that was hit. He said workers got a weather service tornado alert on their cellphones about the same time they saw the funnel coming down to the ground. He and others took cover behind a large piece of excavating equipment.
Samuelson said all those injured had been inside their trailers when the tornado struck.
The oil boom has brought tens of thousands of people into the area looking for work. Many live in hastily assembled trailer parks, known as man camps, housing prefabricated structures that resemble military barracks. Some companies rent blocks of hotel rooms for employees, and some workers sleep in their cars or in tents.
The camp hit by the tornado was relatively small. Samuelson said some camps in McKenzie County have hundreds of trailers and that the possibility of injuries or damage would have been much higher if one of those had been hit.
It was not immediately known who owned the camp that was hit.
Target Logistics is the largest crew camp operator in the oil patch, with more than 5,000 workers in nine facilities. Company regional vice president Travis Kelley said a weather radio is monitored by staff at each facility. If a tornado is reported in the area, workers are "encouraged to come to common areas such as recreation or dining areas, which are fairly well protected right in the middle of the facility," he said.
Meteorologist Ken Simosko said the growth of temporary housing means there is more of a chance for death, injury and destruction from tornadoes.
"People living in trailers creates a very dangerous situation because there is no protection," Simosko said.
Dan Yorgason, who lives in a neighboring camp, filmed the tornado from inside his truck.
"There was literally nowhere to go," he said. "The tornado was coming down the hill along our only escape route. There was nowhere for us to go. It was crazy."
Associated Press writers Blake Nicholson, James MacPherson and Kevin Burbach in Bismarck; and Carson Walker in Sioux Falls, South Dakota, contributed to this report.
(Visited 13 times, 1 visits today)