O'Rourke bets Uvalde shooting will shake up Texas governor's race
'Hell, yes, we're gonna take your AR-15,' says O'Rourke
WASHINGTON — In the wake of a Texas mass shooting in 2019, Democrat Beto O'Rourke told a national audience that it was finally time for action to curb the increase of high-powered guns in the country.
In a debate while running for president, he declared, "Hell, yes, we're gonna take your AR-15," after a gunman killed 23 people in O'Rourke's native El Paso.
Last week, following the massacre of 19 elementary school students and two teachers by an 18-year-old man with an AR-15-style rifle in Uvalde, governor hopeful O'Rourke seized the national political spotlight again. O'Rourke crashed Republican Gov. Greg Abbott's press conference, declaring the carnage was "on you."
This tragedy could impact voter decisions ahead of the Texas governor's race in the state where gun culture looms large. However, Abbott won the last two elections by landslides and began his campaign with $55 million in the bank. 
It's too early to tell what will happen in the governor's race, but the shooting has already affected both parties. 
Abbott canceled a planned visit to the annual National Rifle Association meeting to remain in Uvalde, and Sen. John Cornyn, R-Texas, who is open to strengthening firearm laws, also skipped the meeting.
O'Rourke spent two nights in Uvalde after the shooting, then attended a rally against gun violence in Houston.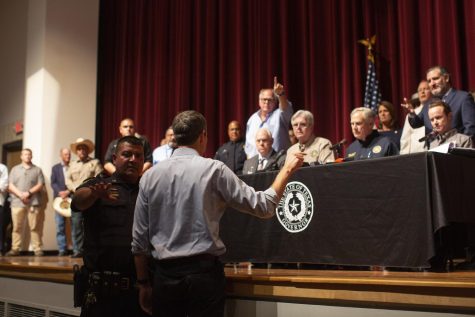 "To those men and women in positions of power who care more about your power than using that power to save the lives of those that you are supposed to serve … we will defeat you and we will overcome you," O'Rourke told protesters.
Last year Texas loosened firearm restrictions to allow nearly any resident 21 and older to carry guns without a license. 
Former Texas Land Commissioner Jerry Patterson, a Republican famous for carrying multiple guns nearly everywhere he went, said O'Rourke's supporters will be "even more determined to vote for Beto," after his confrontation with Abbott.
But the clash could backfire, alienating otherwise potentially sympathetic swing voters who might think O'Rourke was putting on a self-serving show, Patterson said. 
"Sometimes your method overwhelms your message, and his method gutted whatever benefit he might have accrued," said Patterson. "I think it's a net loss."
Abbott hasn't mentioned O'Rourke much since the shooting but answered questions about possible new state gun limits by slamming high crime rates in cities primarily run by Democrats.
"
Sometimes your method overwhelms your message, and his method gutted whatever benefit he might have accrued."
— Jerry Patterson
"There are more people shot every weekend in Chicago than there are in schools in Texas," the governor said. 
During last week's press conference, O'Rourke sat in the audience, intending only to listen, the campaign said. But when Abbott said "there was no meaningful forewarning of this crime" other than the gunman posting about the shooting just moments before he entered the school, O'Rourke became angry. He approached the stage and accused Abbott of "doing nothing" when the Uvalde violence had been "totally predictable."
Uvalde Mayor Don McLaughlin responded with an obscenity and called O'Rourke "sick" for trying to make the shooting "a political issue."
"I think it felt cathartic for a lot of people that maybe might have been on the fence," said Abel Prado, executive director of the Democratic advocacy group Cambio Texas. "It gives you, 'At least somebody's trying to stand up and do something, or at least say something.'"
(Visited 12 times, 1 visits today)