A Flood of Emotions
[aesop_content color="#ffffff" background="#fffdfd" width="100%" height="400px" columns="1″ position="none" img="https://www.swjournalist.com/wp-content/uploads/2015/07/AP63212900861.jpg" imgrepeat="no-repeat" imgsize="100%" floaterposition="left" floaterdirection="up"]
A Flood of Emotions
[/aesop_content]
Texas is still reeling from the barrage of rain over Memorial Day weekend that flooded streets, destroyed at least 700 homes, tore down trees, and took at least 30 lives.
[aesop_gallery id="4407″]
News from the flood can't help but reminisce…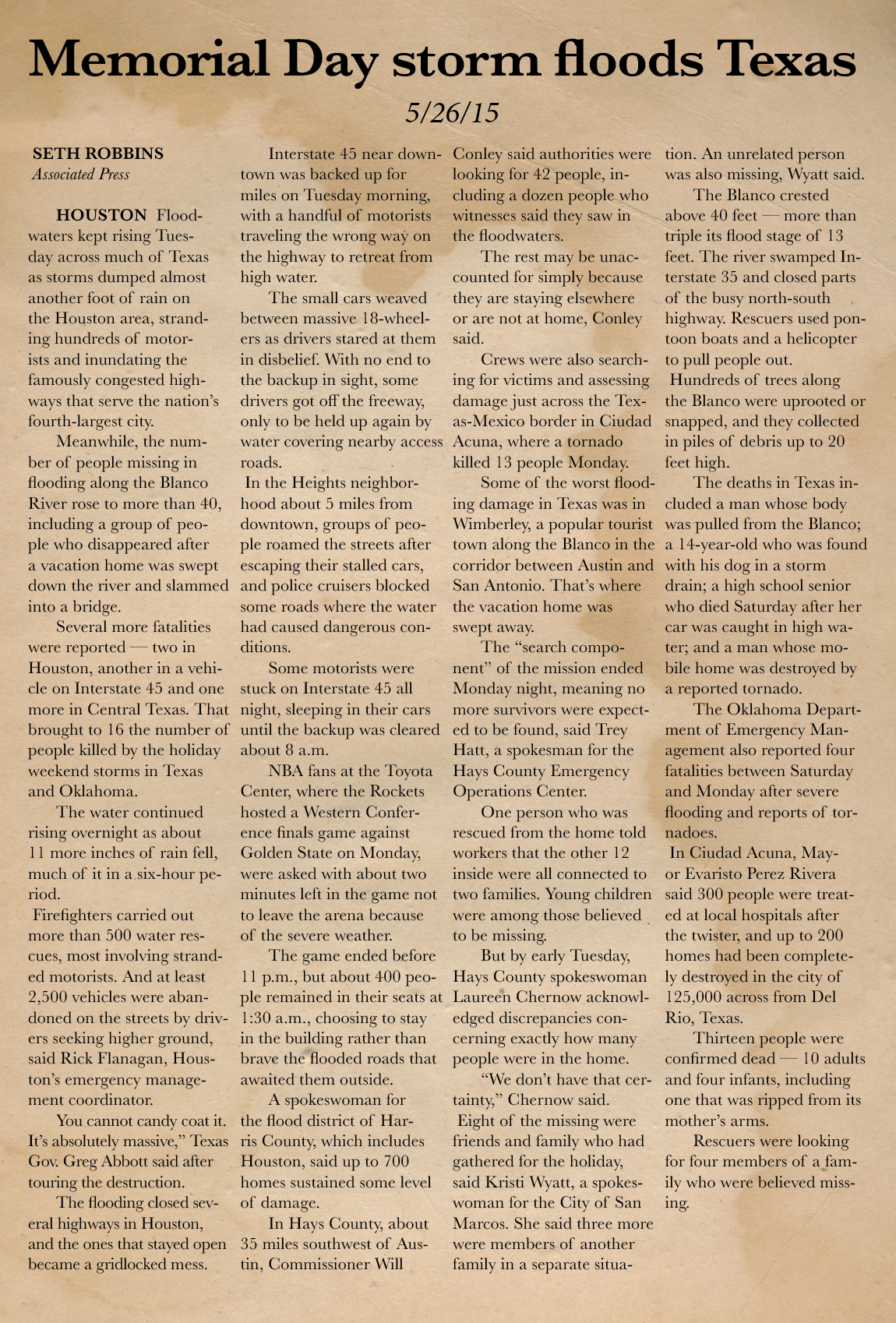 …of the Austin floods in late May 1981.
Meanwhile, residents of Wimberly, Houston, Austin and other affected cities took to twitter to share stories of their loss while others across the state and nation responded with empathy.
Our hearts go out to those affected by the storms and flash flooding across Texas <3

— Texas.gov (@texasgov) May 26, 2015
Dear Lord, please stop the rains and bring back #bluebell. ❤️, ME! #TexasFlood #Texas pic.twitter.com/eCRWIeUWGu — ⭐️Michelle Smith⭐️ (@Michellebbz) May 30, 2015
I'll bet my wife feels silly now for not letting me get that hovercraft I wanted. #TexasFlood @Tx_Dude @javelina98 pic.twitter.com/CxW5uVgOh1

— Darth Taxus, CPA (@DarthTaxus) May 29, 2015
There's too much west Texas dust in my blood for me to ever pray rain would stop…but this is getting ridiculous! #TexasFlood — Sarah Lambert (@salamber222) May 29, 2015
Government: "Stay home, and avoid traveling." Boss: "You're coming to work today, right?" Me: "Yeah…" #TexasFlood pic.twitter.com/aUKDUvlsS3

— Gary Chan (@A_A_Ron_Rodgers) May 29, 2015
(Visited 26 times, 1 visits today)