It's a dinky town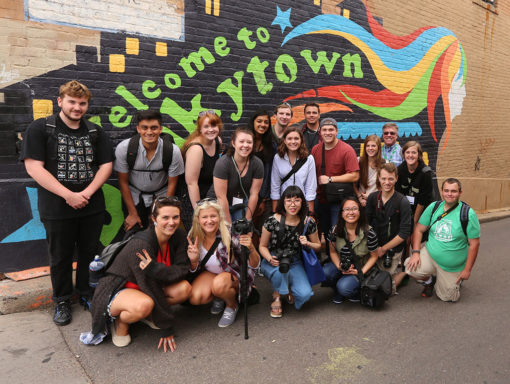 Take your pick.
The name Dinkytown is of uncertain origin, although it was in definite use by 1948, when the Dinkytown Business Association formed.
Maybe the name came from the streetcars, Dinkys, that provided transportation in the area.
Maybe the name came from the chicken tenders at the railyard, called Dinkys due to their small size.
Maybe the name came from the small, four-row theater, known as "The Dinky Theater."
Regardless, Dinkytown is a commercial district within the Marcy-Holmes residential neighborhood in Minneapolis. And it provided an opportunity for the visual storytelling students to tell a plethora of stories.
Spirituality Personified: Magus Books and Herbs
After spending her formative years as an active member of the Lutheran Church, Mela Amara started asking deeper questions that she felt could not be answered by pursuing Christianity. Years later, Amara finds herself as a co-owner of Magus Books and Herbs, a shop located in Dinkytown dedicated to providing their customers with literature and insight into a wide range of spiritual paths.
"Magus books is a multicultural spiritual supplier, so we support and represent every spirituality under the sun. We are all about offering knowledge and not discriminating or judging people so whether a person comes in and they want to explore themselves or their spirituality through Buddhism or voodoo, we have both the books and the tools to help them explore their spiritual selves," Amara told us Friday morning.
Along the books and spiritual items that fill the space, Magus Books and Herbs also has a wide selection of herbs curated by their in house herbalist. The herbs that line the walls of the store have a multitude of purposes. As Amara told us, "The herbs are used magically, they are used medicinally, and they are used for general things, like cooking!" If a customer is sick, searching for answers or just looking for the best spice for their dinner, they can make an appointment with the herb specialist who will curate a specific blend made special for each individual customer. On top of the herbal healing services offered, customers can also make appointments to meet with tarot card readers, psychics, palm readers, animal communicators, astrologers, and even receive a cranial shiatsu massage from Amara herself.
It is this dedication to their customers that has kept Magus Books and Herbs open for almost 25 years, their anniversary coming up this September on the first of the month. Though the store has gone through one or two switches of ownership and several moves, they have managed to keep their customers coming in by succeeding in fulfilling their every need. According to Amara, they have had customers for years that they can now consider friends.
"Our mission statement and our value statement of what we are as a business is shining light and expanding horizons.and so what we like to do then is shine light on new ideas so that a person can expand themselves and explore themselves and their relationship with the universe that we all live in."
Though Amara hinted at a move in the near future, for the time being, you can go explore Magus Books and Herbs over at 1309 SE 4th St, Minneapolis, MN 55414.
Bringing a piece of Cornwall to the Twin Cities
Lands End Pasty Company opened in 2014, by owners Peter Jacobson and his uncle Jon Earl, who are both from southern Minnesota. After visiting a family friend who had moved to England, the duo decided to open their own restaurant featuring the British food, the pasty (pronounced pass-tee). Pasties are a baked pastry which usually contain meat and vegetables and are associated with Cornwall, England.
When starting their business, the first year they made three cents an hour for profit. Now, they are making ten times the amount than when they opened.
Since Jacobson and Earl are currently the only employees as well as the owners, they are rarely able to take vacations or time off work, and are only closed on Sundays and holidays.
Since they are constantly working at Lands End, they have made relationships with many of the customers, especially since most of them return to the restaurant on a weekly or monthly basis.
Five chemistry students from University of Minnesota visit Lands End on a weekly basis, to take time to socialize in between working on a project in the laboratory.
Other customers visit on their own once a month to spend some time alone and have a quiet lunch with the owners.
While Earl and Jacobson haven't visited England in seven years, their love of England and all things British have not wavered. They have a large collection of British movies and television shows that they have constantly running on their television throughout the day, to keep their spirits up when they have few visitors.
Even though Lands End is the focus of these entrepreneurs, Earl has several other hobbies that are visible throughout the restaurant. Not only does he collect various military paraphernalia from around the world, he enjoys playing on arcade games from the 1950s, and has recently taken up sewing and creating costumes for the Renaissance Fair here in Minnesota.
Keeping Dinkytown's coffee local
Espresso Royale is a locally owned coffee shop in building that is more than 100 years old. Representative of its long history, the store still holds the safe from Scheel's hardware store, the building's original occupant. After a few changes in purpose and ownership, including an extended period of vacancy, a stint as a different coffee shop, and a bookstore, this building has been home to Espresso Royale since 1987. Despite a Starbucks opening only a few doors down, the staff and customers of Espresso Royale have remained faithful to and confident in their local spot.
Hear from Espresso Royale regular Michael Inderlee below
Shoe's Have Feelings: Fast Eddie's Place
Eddie Laplante opened Fast Eddies in 1971 after repairing shoes for several years. When Jim Picard came along, he had been working for a cobbler and heard that Eddie was going to retire. He convinced him to stay and teach him how to run the shop. Eddie ended up staying and running the shop with Jim for twenty more years; he retired when he was 95. During that time, Jim was striving to be Fast Eddie, and today he feels as though he as almost succeeded.
Shoe repair is Jim's passion; he cares about his customers. The quality and care that he puts into his shoes show through the satisfaction of his customers and their love for comfortable shoes. Jim specializes in repairing Birkenstocks and the art of crafting a foot bed that fits like a glove to the person who owns it.
Jim loves his job so much that he works 12-14 hour days to get his customers, whom he calls friends, their shoes as quickly as possible. Along with his smile and friendly personality, he has built up quite a reputation for repairing shoes in good taste and quality. The student has officially become the master, and he has gained a lot of friends along the way.
When Jim retires he hopes to find someone else to take over the shop, and then he will do as Eddie did for him and teach them how to run the business. This is how we can pass down the knowledge from generation to generation. There are only four shoe repair shops in the Minneapolis area.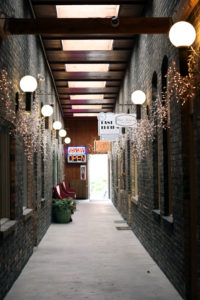 Fast_Eddies_Place from Bradley Wilson on Vimeo.
Behind the Books
Through an inconspicuous door and up a narrow staircase in one of Dinkytown's oldest buildings, lives a labyrinth of over 30,000 books waiting to be lost in.  Founded in 1976 by two bookseller couples named James and Kristen Cummings, and Dr. Rob and Lynn Wozniak, The Book House is one of the last used bookstores for University of Minnesota students and locals looking for an old-fashioned experience.
With a key in his hand, Ryan Hinderaker unlocks the shop's door like he has been doing for the past 11 years.  Books have always been a lifelong interest of Ryan's, which he attributes to his mother being a teacher.  His interest in types of books, however, broadened after he started working at The Book House.
"When I started out, I just wanted a copy of all the books I liked and wanted to read. But after working here, one of the things when you first started here (and this is a long Bookhouse tradition) is that every employee gets $.50 store credit for every hour they work here, in addition to their regular wages. So if you work full-time, for 2000 hours in a work year, that's $1000 dollars of store credit in 11 years… Yeah I have a nice collection at home," said Ryan.
A true book lover, Ryan will often have several copies of his favorite books.
"A lot of times, I'll have a separate reading copy.  I'll start out with one of the pocket paperbacks, then you give that away to a friend and you get the paperback with the cool cover. Then the first edition comes in, and you finally upgrade to that," said Ryan.
The access to some of the rarest and most interesting books is not the only reason Ryan loves his job.
"One of my favorite guys to buy books from is an anthropology professor here.  He speaks 12 languages and only knew one coming out of high school.  Now he just took off to Germany to be an opera singer.  These are the types of customers I get to talk to and talking to them is just fascinating," said Ryan.
Unfortunately, the influx of chain stores threaten the existence of small businesses. In the summer of 2014, they had to move from their old location due to increased rent prices.  
"A lot of people thought we closed. We didn't exactly make friends with the developer either, so they weren't eager to put up a sign saying we're just around the corner," said Ryan.
But thanks to the efforts of individuals like Ryan, the rest of The Book House staff, as well as its customers, local brick and mortar businesses are able to stay alive and continue on as a piece of Dinkytown history.
"One of the managers and I are in the process of slowly buying the store.  I'm never gonna retire because I love what I do," said Ryan.
A Bubble in Time
Wandering the streets of Dinkytown, we stumbled upon the relaxing atmosphere of Chatime Bubble Tea Cafe. Chatime offers a variety of drinks such as milk teas, fruit teas, shakes and coffee.
Sarah Williams, a barista at Chatime, said that the cafe is a relaxing place for college students.
"A lot of college kids who don't necessarily want to hangout at Espresso Royale or Starbucks will come here for a different vibe," she said. "There's something for everyone here."
Williams is originally from North Carolina and moved up to Minneapolis to attend the University of Minnesota. She is an incoming junior studying history, Latin and Italian with the hopes of getting her doctorate to become a professor.
She has been working at Dinkytown's Chatime since October, but has experience from working at the one in the Mall of America. When Williams worked at the Mall of America location she commented on just how hectic it was. She said that it was very busy and that she spilled tea on herself repeatedly. Now at the Dinkytown location she said that it is calmer and she enjoys it more.
"It's kind of more chill," she said about Dinkytown's version of Chatime. "Kind of hipstery I would say."
Williams will tell a customer which drinks she thinks are good or what is in a drink and how it might taste. For instance she said that the Peach Black Tea tastes kind of like apple juice. The drinks are made quickly and with a confidence that Williams clear exudes. Some drinks are put on the blender while others are shaken and all the teas are sealed with a plastic Chatime film lid, similar to the lids on fruit cups with syrup in them.
Chatime tea is a place to go to relax, grab a tasty drink and enjoy yourself.
One for the books
By Jacob Barnes, Matt Halton, Hannah Olson

A view of the Book House on July 14. Photo by Hannah Olson.
Many changes have occurred in the business landscape of Dinkytown over the past 38 years, yet one thing has remained constant — The Book House.
The Book House, open since 1976, sits almost hidden above a Chinese restaurant on Fourth Street. After climbing a staircase strewn with a mishmash of postcards, papers and stickers, customers to the Book House are greeted by the laid-back grin of Ryan Hinderaker.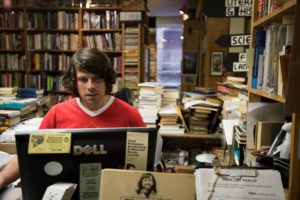 Ryan Hinderaker, an employee for The Book House for eleven years, helps a customer purchase a book. Photo by Jacob Barnes.
Hinderaker is one of the managers of the store, and he and his business partner plan to buy the business after current owner, Kristen Cummings, retires.
After graduating with a degree in history, Hinderaker didn't know where to go next. He credits his mom for his decision to work at a bookstore, and refers to her as a 'freakin genius' because of it.
"My mom was a teacher so I was into books at a young age. She thought, you like books– work at a bookstore," he explained, "I went to every book store in the Twin Cities and dropped off applications, I was like, I want to work at a bookstore."
He considers himself a lifelong learner, and appreciates that working in a bookstore helps him to broaden his knowledge on a wide variety of subjects.
"Being around books inspires you," Hinderaker said.

Books on a table in The Book House. Photo by Jacob Barnes.
A WordPress page is an inappropriate medium with which to share his story. Hinderaker has an inherent distrust of digital mediums.
He asserts that he is not paranoid, rather prepared.

Ryan Hinderaker speaks to a customer in the Book House on July 14. Photo by Hannah Olson.
"I like having a hard copy. I'm not paranoid that the government is watching what I read, but it can be so easily taken away."
He laughed saying, "for example, everyone was making fun of me for buying up all the Futurama DVDs- but then they took it off Netflix. Who's laughing now?"
One could argue that The Book House is a good reflection of this mentality, holding onto hard copies by the thousands. The stacks of books meet the ceiling, reaching more than 35,000 in the store alone.
Within physical bookstores, a dying breed in themselves, The Book House stands out.
He recalled one occasion he went to a suburban Barnes and Noble, only to find teen vampire romance novels, and psychology book sections limited to mere diet books.
He was disappointed to find a lacking history book section with categories such as "Harry Potter" and "the Renaissance."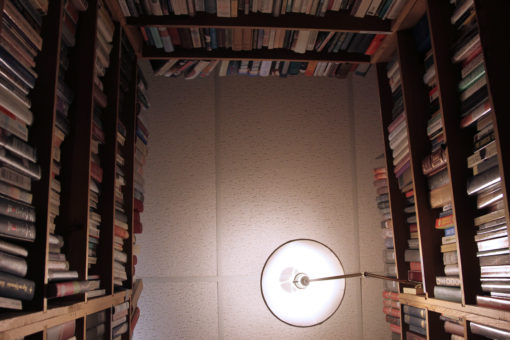 The view from the floor of the Book House. Photo by Hannah Olson.
In contrast to book stores meant to serve the masses, The Book House attracts life long learners who are willing to pay more for quality.
"I think we have a higher grade of customer than most people. They have a lot of interesting things to say. It's like browsing the internet with reputable sources," said Hinderaker.
This mentality may seem an impossible business strategy, however, the employees of the Book House haven't shoved their heads in the sand– the internet is a key source of revenue for them.
"That kind of sucks, you end up giving Amazon 20 percent of your money for them to try and run you out of business with that money," explained Hinderaker begrudgingly, "there are some things like, you kind of have to sell online to stay in business."
To Hinderaker, social media and technology are necessary evils.
"It's a devil you've got to dance with I guess to stay in business ," Hinderaker said.
Editions of the "Queens of Scotland" located in the rare book room. Photo by Jacob Barnes.
He explained that he feels the employees of The Book House are collectively slow to embrace technology.
Rather ironically, on the walls of The Book House are signs encouraging customers to tag their business in photos on Instagram.
"I handle like none of the social media stuff," he explained defensively.
The Book House stays financially stable by providing a service for a niche yet loyal group of customers.
"I think we have a high quality selection for intelligent people who are willing to learn," he said about his customers.
Hinderaker noted that the store's key demographic are graduate students. Many of the books tend to be narrowly focused academic titles, catering to an advanced niche audience.
Take, for example, Bobby Olsen. He studies Medieval History at St. Louis University. Olsen is a Dinkytown local, growing up in Minneapolis and completing his undergrad at the University of Minnesota.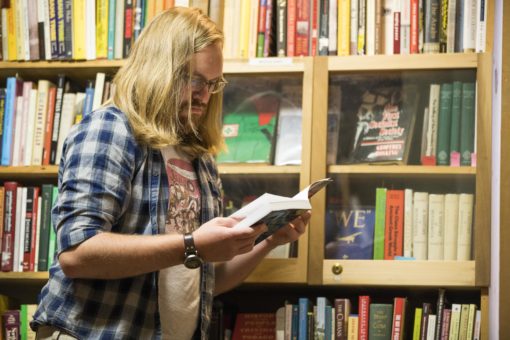 Bobby Olsen, a history graduate student at St. Louis University, looks at various theology and medieval history books, Friday, July 14, 2017. Entering the senior year of his doctoral program, he said he hopes to work as a history professor at a liberal arts college in Minnesota. Photo by Matt Halton
While in town, he makes sure to visit The Book House. Already having a multitude of books on his thesis topics—theology, religion, culture, etc. —it can be hard for him to find a book he hasn't already read.
After slowly making his way around each nook and cranny in the shop, he shuffles to the front desk. Purchasing two books and a historic map of St. Louis, Olsen's friendly attitude leads him into a conversation with the store manager.
"The goal is to be a professor, but I'd be pretty happy working in a bookstore," he remarked.
The Book House, ever constant– aside from one location change– is a good metaphor for the mediums they sell.
Inking Dinkytown
A large tree of life tapestry, sketches of Bill Murray and Christopher Walken and tattoo photos line the walls of local tattoo artist Nick McCurdy's station at Dinkytown Tattoos. The visual artwork is a display of the personal growth that McCurdy has made during his life as an artist.
After figuring out school didn't provide the creative journey he wanted out of life, McCurdy, now 24 years old decided to follow in his fathers footsteps.
Three years ago McCurdy took his art to a more unique and professional level by obtaining his tattoo certification. With over 200 tattooing hours McCurdy has built a career of inking intricate tattoos.
His favorite tattoo is inking an entire eye for a half sleeve while he prefers not to do lettering.
McCurdy has drawn his entire life and started as a commission portrait artist sketching new born babies or lost loved ones for clients.
McCurdy said he has only gotten better at inking over time. Like most tattooists, he worked on himself which consisted of a canine and skull tattoo on his leg.
"My right leg was pretty much my scratch pad when I started," said McCurdy laughing.
The artwork of tattooing isn't the only aspect that McCurdy focuses on during an appointment. He takes time with each client reassuring the design by making certain the outline and angle is correct before permanently inking.
McCurdy also knows how to form a strong trusting relationship with his clients by creating a comfortable environment. This tends to assure that they know what artist they'll want to visit again.
McCurdys passion drives his creation of great pieces. Dinkytown Tattoo, located at the center of Dinkytown is an eclectic business atmosphere for anyone who is looking for adventure, great customer service, and beautiful work.
(Visited 268 times, 1 visits today)