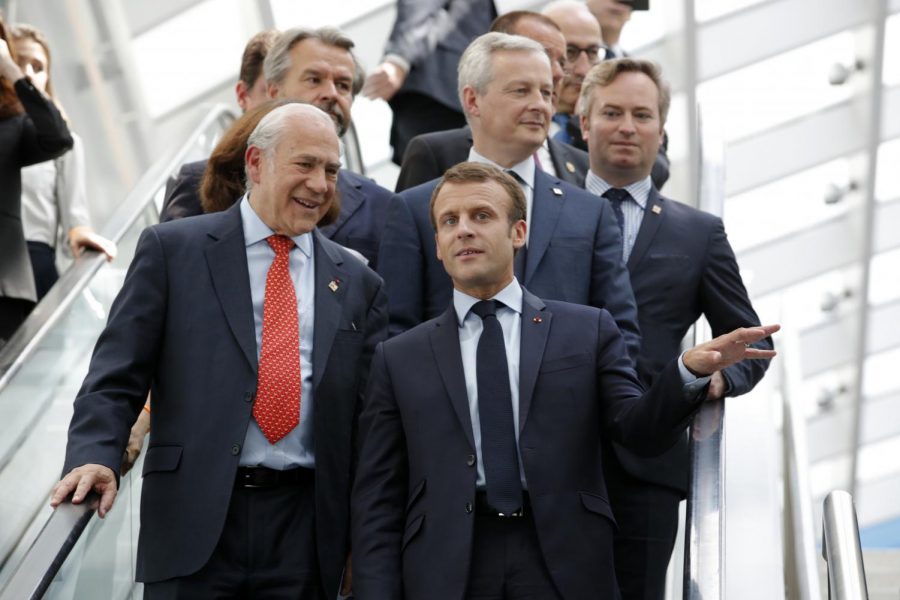 PHILIPPE WOJAZER/Pool photo via AP
As US mulls tariffs, French President Emmauel Macron warns against trade war
Europeans expect final decision on tariffs from the US Thursday
May 30, 2018
PARIS — French President Emmanuel Macron warned against trade wars in an impassioned speech about international cooperation Wednesday, a day or two before the Trump administration decides whether to hit Europe with new tariffs.
Top European officials were holding last-ditch talks in Paris with the U.S. commerce and trade chiefs on the steel and aluminum tariffs. However, the Europeans seem to be losing hope of winning an exemption from the charges.
European officials said they expect the United States to announce its final decision Thursday. U.S. Commerce Secretary Wilbur Ross and U.S. Trade Representative Robert Lighthizer attended meetings at the Organization for Economic Cooperation and Development in Paris that were planned to continue Thursday.
The U.S. plan has raised the threat of retaliation from Europe and fears of a global trade war — a prospect that is already weighing on investor confidence and could hinder the global economic upturn.
"Unilateral responses and threats over trade war will solve nothing of the serious imbalances in the world trade. Nothing," Macron said in a speech.
In a clear reference to President Donald Trump, he added: "These solutions might bring symbolic satisfaction in the short term … One can think about making voters happy by saying: I have a victory; I'll change the rules; you'll see."
But he said that those "who waged bilateral trade wars … saw an increase in prices and an increase in unemployment."
Tariffs on steel imports to the U.S. can help local producers of the metal by making foreign products more expensive. But they can also increase costs more broadly for U.S. manufacturers who cannot source all their steel locally and need to import the raw material. That hurts the companies and can lead to more expensive consumer prices, economists say.
With the tariffs looming Friday, Ross and Lighthizer were meeting Wednesday and Thursday in Paris with EU, French and German officials.
French Finance Minister Bruno Le Maire said the European response to the U.S.'s announcement would be "united and firm." If the U.S. goes ahead with its tariffs, the EU has threatened to impose retaliatory tariffs on U.S. orange juice, peanut butter and other goods in return.
EU Trade Commissioner Cecilia Malmstrom tweeted that "the EU wants to be fully excluded from these tariffs and rather engage in a positive trans-Atlantic trade agenda."
Besides the U.S. steel and aluminum tariffs, the Trump administration is also investigating possible limits on foreign cars in the name of U.S. national security.
After meeting with Ross, German Economy Minister Peter Altmaier told reporters that he doesn't expect a decision soon on foreign cars.
Macron also proposed to start negotiations between the U.S., the EU, China and Japan to reshape the World Trade Organization to better regulate trade. Discussions could then be expanded to include other countries to agree on changes by the end of the year.
Ross expressed concern that the Geneva-based World Trade Organization and other organizations are too rigid and slow to adapt to changes in global business.
"We would operate within (multilateral) frameworks if we were convinced that people would move quickly," he said.
Ross and Lighthizer seem like the odd men out at this week's gathering at the OECD, an international economic agency that includes the U.S. as a prominent member.
The agency issued a report Wednesday saying "the threat of trade restrictions has begun to adversely affect confidence" and tariffs "would negatively influence investment and jobs."
(Visited 69 times, 1 visits today)