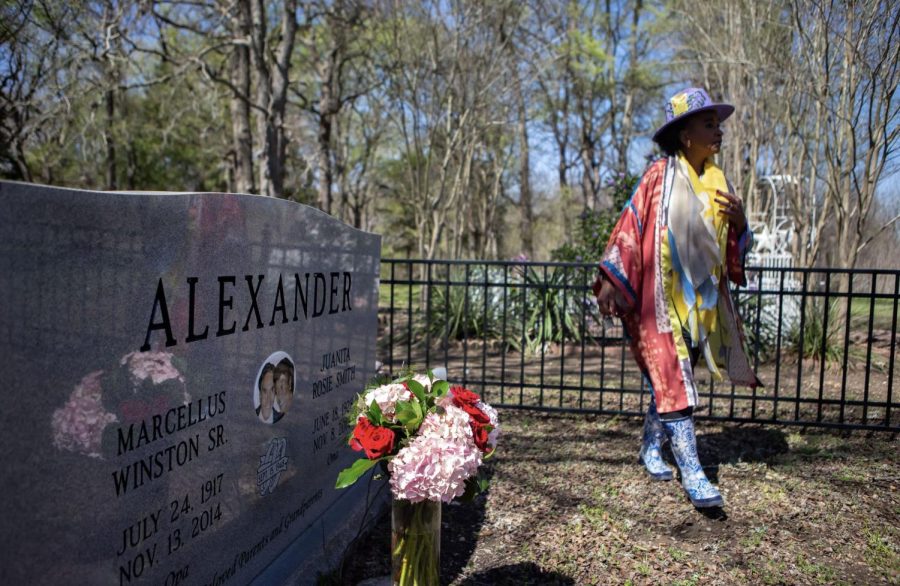 LAUREN WITTE/The Texas Tribune
Family battles with Texas officials to preserve historic land
Property and history at risk of being lost to Texas Department of Transportation in eminent domain struggle
May 31, 2022
With fresh flowers in hand, Rosalind Alexander-Kasparik walked from her family farm on a spring afternoon to the adjacent private cemetery where generations of her relatives are buried.
She stopped at the cemetery's entrance, picking up trash blown in from U.S. Highway 183.
Alexander-Kasparik was 9 in 1968 when the Texas Department of Transportation used eminent domain to forcibly buy 5 acres of the family land and cut off what once was  the farm's entrance, leaving a portion of the property isolated on the other side of the freeway.
Decades later, history is threatening to repeat itself. TxDOT plans to add more lanes to the highway.  This time around, Alexander-Kasparik is determined to see a different outcome. "They are not taking any more of our historic, hard-fought-for, blood-ridden land," she said.
The widening project is still in the planning stages — making it unknown how much, if any, of the Alexander Farm will be needed to support the added concrete.
She remembers watching her grandfather fight to keep their land intact in the '60s. Milton Everett Alexander enlisted the help of lawyers, but ultimately, TxDOT won. 
"The taking of it was something that my grandfather saw as his defeat," Alexander-Kasparik said.
She hopes the historic nature of the property will divert TxDOT from forcibly buying any more of the land. It was almost unheard of in 1847 when Daniel Alexander founded the farm. His enslavers granted him ownership even though he remained enslaved. 
Alexander was born into slavery in 1810. The McKinney family made a verbal agreement with Alexander in 1847 allowing him to own 73 acres of land. Alexander officially bought the land in 1879.
The cemetery on the north end of the property — where Alexander was buried in 1883 — was seen as a way to provide dignity to generations. 
"The best way to make sure that the family stayed together forever was to have a cemetery," Alexander-Kasparik said. "A family cemetery, not a burial ground for enslaved people, but a place where your family is interred and the remains are part of the earth that is part of your land."
The property's dairy farm thrived and serviced various establishments in the area under the leadership of Milton Everett Alexander in the middle of the 20th century. Though he tried, Milton was unsuccessful at stopping TxDOT from building Highway 183 through the family's property. 
In November 2019, Alexander-Kasparik received a postcard notifying her of a TxDOT meeting Highway 183 expansion plans. 
In February 2020, family members met with TxDOT staffers to dissuade the agency from taking any more of the Alexander Farm.
Alexander-Kasparik quickly adopted a new life mission: convincing state and regional officials that her family's historical land is important enough to be saved.
She is also working with organizations to guarantee the farm and cemetery Alexander founded and left behind will continue to be around for years to come.
The family now believes that the National Historic Preservation Act of 1966 could have helped prevent TxDOT's use of eminent domain decades ago. They're now using the act to try to preserve the land. It requires transportation departments to conduct an investigation and determine if land impacted by projects receiving federal funds have historical significance. But it doesn't prevent the use of eminent domain if the government agency determines no other routes are feasible.
Alexander-Kasparik sees hope on some fronts. TxDOT halted  a highway improvement project in Houston as The Federal Highway Administration  investigates civil rights complaints about its impacts.
(Visited 46 times, 1 visits today)