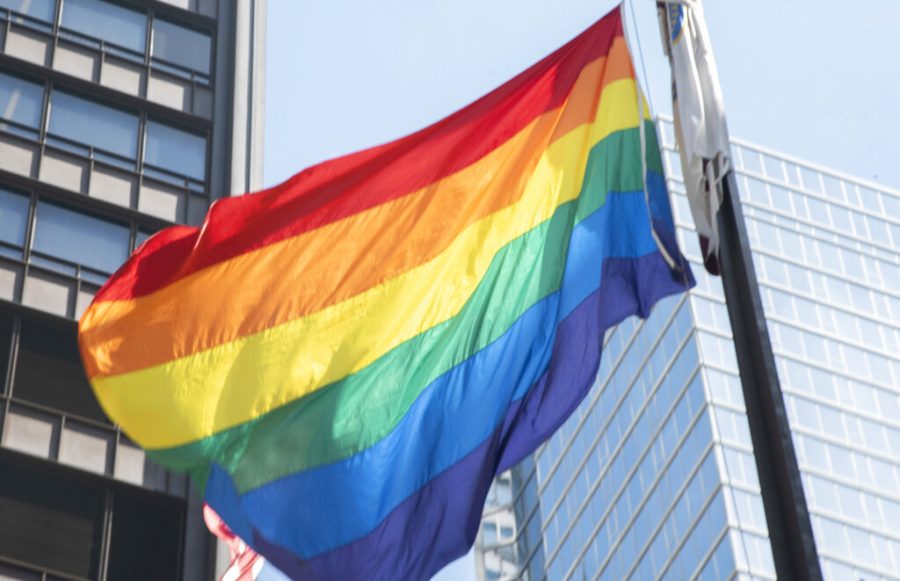 BRIAN RICH/Chicago Sun-Times via Associated Press
Austin Pride offers month-long festivities to celebrate LGBTQ community
The events include a virtual Pride film-a-thon, drag performances, mural paintings and live concerts.
The coronavirus pandemic caused most Pride Month events to be moved online in 2020. This year, activities are a mix of online and in-person. Here are a few of the events taking place in Austin.
Sing Out!: A Pride Musical Revue June 3
Austin Artists Project is collaborating with Ground Floor Theatre for a show in Austin on Thursday. It will feature six Tony and Grammy award winners and nominees as well as selections from musicals such as "Hadestown" and "The Color Purple," according to its website. Tickets from Ground Floor, at 979 Springdale Road, start at $25 for a nine-person pod but are otherwise "pay what you can." 
PRIDE Mini Film-A-Thon June 4-6
The All Genders, Lifestyles, and Identities Film Festival will hold a virtual Pride film-a-thon from Friday through Sunday. Among the weekend's offerings are four feature films with limited numbers of views, according to the festival's site.
Queer Artist Market June 6
Austin's Queer Artist Market will feature over 20 LGBTQ vendors, a prize wheel, and tacos, taking place at Garden Seventeen at 604 Williams St. from noon to 4 p.m. on Sunday. 
The Boiz of Austin June 8
Drag king group the Boiz of Austin will host a Pride show Tuesday at Elysium Austin, 705 Red River St. Doors open at 9 p.m. and there is a $5 entry fee for people ages 21 and older. Adults under 21 must pay $10, according to the event Facebook page.
(I'm)perfectly queer June 9
(I'm)perfectly Queer, a youth event hosted by Austin Black Pride will take place from 6 p.m. to 9 p.m. June 9 at The Little Gay Shop at 828 Airport Blvd.
Capital City Ball: Coming to Austin Kiki Ball June 11
Capital City Ball and Austin Black Pride will hold an event for people 18 and older June 11 at Highland Lounge, 404 Colorado St. The ball will begin with a 9 p.m. red carpet. Tickets are $15 for 18- to 20-year-olds and $10 for ages 21 and up.
Trap Paint and Sip June 12
Austin Black Pride is selling $25 tickets to its Trap Paint and Sip event taking place at Rain,  217 W. 4th St. from 7 p.m. to 9:30 p.m. June 12. All attendees, who must be at least 21 years old, will receive food, supplies and a drink, according to the event page. 
Drip Drop June 12
Austin Black Pride will host Drip Drop, a hip hop, bounce and trap party, from 9 p.m. to 2 a.m. June 12 at Elysium, 705 Red River St.
Pride Extravaganza June 13
Flow Yoga Westgate, 4477 S. Lamar Blvd., will host vendors, yoga, and drag performers from 1 p.m. to 5 p.m. June 13, according to its Facebook event page.
Yoga and Sound Bath June 13
Austin Black Pride and SwirlBabyTV are hosting a yoga and meditation event at Givens Park from 10 a.m. to noon June 13. Sexual health and HIV testing service Kind Clinic will appear in support of the event, according to its Facebook page.
Pride in Local Music June 26
The Austin and Nashville LGBT Chambers of Commerce will hold Pride in Local Music online for the second year in a row. The event will be from 6 p.m. to 8 p.m. on June 26.
Paint with Pride June 5/12/19/26
The Austin Public Library will host socially distanced mural painting every Saturday in June from noon to 3 p.m. at different locations. Location information is available at library.austintexas.gov/events/. Reservations are required but free to obtain. 
Throughout Austin people and businesses begin celebrating:
Happy Pride Month! Cider y'ALL. ❤️ 🧡 💛 💚 💙 💜 pic.twitter.com/EuHGCGip5O

— Austin Eastciders (@Eastciders) June 1, 2021
My first year being #out for #pride and I'm lucky enough to live in #austin
BUT for every day that I don't get wished "happy pride" I'll add another flag to my yard. 🥰 WIN WIN pic.twitter.com/94R18z5zE0

— Morgan Carroll (@zephyr3c33) June 2, 2021
This is Porterhouse and he just wants to say happy #pride 🌈 pic.twitter.com/B1e8CQIhde

— Austin Pets Alive! (@austinpetsalive) June 1, 2021
BFFs surprised me by driving to Austin for an early bday dinner Saturday night. I screamed in the restaurant. Didn't care. I met these amazing queens when I came out at 23. #pride isn't just a party. It's how you live your life if you truly want more from it. ❤️ pic.twitter.com/acbr7f3ad8

— Patrick Salazar #BLM (@PodrickATX) June 2, 2021
(Visited 49 times, 1 visits today)