Students return to Santa Fe High School following mass shooting
School is back in session for survivors of the Santa Fe High School shooting, during which a student fatally shot 10 people and wounded 13 others
May 29, 2018
SANTA FE, Texas — Like some of her classmates, senior Brooke Williams had mixed emotions about returning Tuesday to classes at Santa Fe High School, where a student fatally shot 10 people and wounded 13 others on May 18.
"I'm not excited to go back to school. I'm actually pretty scared to, but I feel like that's the reason why I need to go back. I don't want to be scared of this the rest of my life," Williams said.
Less than two weeks after the shooting, students at the school near Houston were greeted by more than 20 law enforcement vehicles and supporters holding signs saying "Santa Fe Strong" and "United We Stand."
Students who had classes in the area of the shooting were the first allowed back in, followed by the rest about two hours later. The teens lined up in front of the school's main entrance, which was the only approved entrance. They were not allowed to carry backpacks or large purses and were required to show an ID before entering.
All students then gathered for a two-hour assembly honoring the victims, and counselors were available for anyone who needed to talk about the slayings of eight students and two substitute teachers.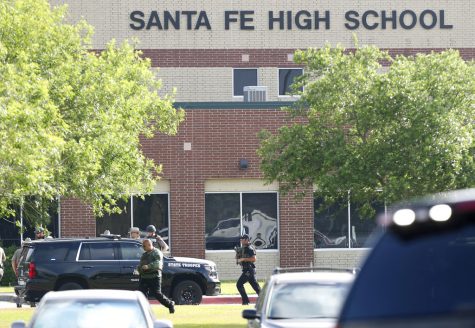 Texas Gov. Greg Abbott visited the campus Tuesday, speaking with students, parents, teachers and staff privately and presenting first responders with an award for their actions.
Hailey Hubbard, another senior, was returning for her final week of high school.
"Honestly, I just want to go back so I can see my friends and not spend my last three days of senior year just being secluded in a room," Hubbard said. She said she did not want the shooting to be her last memory of high school.
Hubbard said some of her friends were more ambivalent about returning to campus and that she had to help calm down a friend who suffered a panic attack at the thought of going back to school.
She hopes returning to campus will also give her mother peace of mind because "she's terrified of me going to school." The teen had wanted to ride to campus on the school bus that she normally takes, but her mother said no because there's no security on the bus.
Sheila Hubbard wasn't reassured by the extra security at the school and planned to stay on campus all day Tuesday to make sure her daughter and son Nathan, also a senior, were both safe.
"I think them going back is best. It doesn't make it easier for the parents … We're all scared our kids are going to come to harm," the elder Hubbard, a 40-year-old nurse, said as she stood outside her home just before driving her kids to school.
Williams said some other seniors she spoke with won't return to campus and plan to show up only for graduation on Friday "because they're so terrified."
Like Hailey Hubbard, she wanted to return to class in part so the shooting would not be her defining memory of her school.
"I hope by the end of the day today I'll be able to look at the school and not cry, not feel hate … not think of it in grief … and also to find comfort in the people who are still here," she said.
Authorities have charged Dimitrios Pagourtzis with capital murder in the attack. He's accused of using a shotgun and pistol that belonged to his father. The 17-year-old remained jailed without bond in Galveston.
Also Tuesday, the hospital treating a school police officer who was badly wounded in the attack announced that his condition had been upgraded from critical to serious.
Officer John Barnes was shot in the arm when he confronted the gunman. A bullet damaged the bone and a major blood vessel around his elbow. He remains in the intensive care unit.
Abbott has announcements scheduled for today to reveal his new school safety plan, after holding three days of meetings last week following the shooting.
(Visited 20 times, 1 visits today)