JAKE PEARSON
Associated Press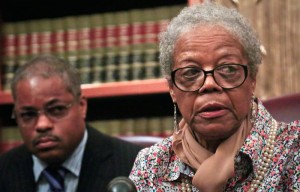 NEW YORK — A Rikers Island jail guard who left her post without permission before a mentally ill inmate died in his 101-degree cell in February had been disciplined four years earlier for similar misconduct, according to documents obtained by The Associated Press.
Carol Lackner, 34, was accused in 2010 of leaving her post and the prison entirely without permission while working in a women's section of the jail, according to the documents.
That administrative charge was settled, her attorney says, when Lackner agreed to give up five vacation days. He said she was on a break when she left, which is nevertheless a policy violation.
More recently, Lackner was suspended for 30 days following the Feb. 15 death of 56-year-old Jerome Murdough. A city corrections investigation found she abandoned her post in a mental health observation unit 20 minutes before the homeless ex-Marine was discovered unresponsive in his overheated cell.
A city official said Murdough "basically baked to death" when he was left unchecked for at least four hours in a part of the jail that had a malfunctioning heater.
Murdough suffered from bipolar disorder and schizophrenia, his family said. He was on psychotropic medication, which experts say can make people more sensitive to the heat. The medical examiner's office says more tests are needed to determine exactly how he died, but an investigator said he appeared to have died from hyperthermia.
While logbook entries indicate Lackner toured the area every half hour as required, she is not seen on video doing so, according to another city official.
Lackner's attorney, Damond Carter, denied accusations she left her post without permission. He said she was brought in as a relief guard after effectively working three straight shifts and wasn't given any information about complaints of excessive heat, which she herself could feel.
"It's unfair to lay everything at her foot," Carter said.
He emphasized that multiple factors contributed to Murdough's death, including his sentence to Rikers in the first place after being unable to make $2,500 bail on a misdemeanor trespassing arrest.
Derek Sells, lawyer for Murdough's mother, who is planning a $25 million lawsuit against the city, said in a statement that no other prisoners should have to die as a consequence of substandard officers.
"Had the city properly supervised this officer, who had a history of abandoning her post, Jerome might still be alive," Sells said.
In addition to suspending Lackner over the Murdough case, corrections officials also reassigned a warden and transferred a mechanics supervisor.
The documents also show correction officials brought administrative charges against Lackner in 2011 for failing to report that she had been arrested. Lackner allegedly kicked in a wooden gate at a man's Queens home, according to a criminal complaint. That case was settled with her pleading guilty to disorderly conduct, a noncriminal violation, and paying $1,100 in restitution. There was no administrative disposition of that case, her lawyer said.
(Visited 19 times, 1 visits today)